2012 Helsinki Horse Fair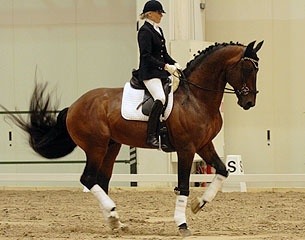 The Tunne Hevonen Dressage Challenge with bitless dressage competition exhibition held on Saturday 3 March 2012 at the second ever Helsinki Horse Fair in Finland was a huge success. The fair was attended by around 42,000 visitors and the exhibition was Saturday's main attracttion.  The idea was to show that good riding is not based on equipment, but on good horse riding skills and good horsemanship.
Close to three thousand spectators attended the bitless competition class which was judged by Tiina Karkkolainen and Inkeri Kostiainen. International and national level riders took part in the show competition.
The winner was Julia Alfthan-Kilpeläinen and her 17-year old Swedish warmblood gelding Chirocco (by Chirlon x Castello). Maria-Kristina Virta and her 20-year old Finnish warmblood gelding Conquistador S (by Matador x Toreador) were second.
Janne Bergh and her halfblood mare Show Me Colour N and Taina Rajala with her Finnish warmblood stallion Kiahan Renard (by Roi du Ballet x Waldmeister) tied for third place. Katariina Albrecht and her black Finnish mare Silkki Musta were fourth and Heidi Sinda with her Finnish bred gelding Hessin Jeviiri slotted in fifth.
To Bit or Not to Bit
All riders shared the same view on bitless riding. If a horse is tense, it will be tense with a bit too. Many of them commented that if they had had more time to practice, they would have reached the same results with the bitless bridle as with a bit.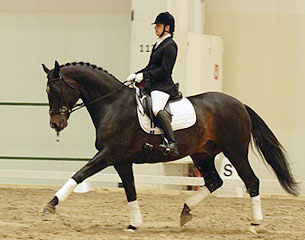 Julia Alfthan-Kilpeläinen rode twice with the LG-bridle before the competition and she thought that with practice, collecting would come faster and easier.  "I wanted to challenge myself and my old familiar horse to the new situation and it went exactly as I wanted it to. Bits in themselves are not the main aid between the horse and the rider, all the other aids are. I had so much fun," said Dressage Challenge winner Julia Alfthan-Kilpeläinen, adding that, "I would do it again, of course."
Maria-Kristiina Virta who came in second place told us that she had so much fun and enjoyed the fact that her experienced horse wanted to perform. Third placed Janne Bergh had a young, inexperienced horse, which as she said, would have been just as tense with a bit in her mouth. "However, I had fun," she stated.
Taina Rajala also said she enjoyed the competition and praised the atmosphere. "It was really fun to perfom for such a big audience. My horse was really happy and wasn't tense at all. With more training I think I could get a better feel and I would ride at the same level as with a bit. A good competition with a good atmosphere!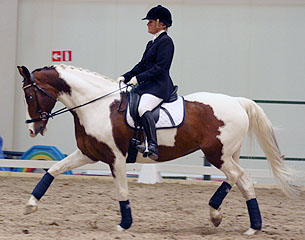 Finnhorse riders Katariina Albrecht and Heidi Sinda also said that it was great to ride in front of a big audience. Katariina stated that riding with a bitless bridle is a question of training and she feels that you can achieve the same results without a bit as with one.  She is ready to do it again, anytime.
Heidi Sinda had a young horse too and she said that she was surprised that her horse moved with better back movement and used his hindquarters much better with the LG-bridle. "Great event, big audience and good arrangements, Heidi Sinda concluded.
Text by Minna Lindström
Photos © Sallis Lindqvist/Tunne Hevonen magazine
Related Links
Exhibition of Bitless Dressage at 2012 Helsinki Horse Fair