FEI Dressage News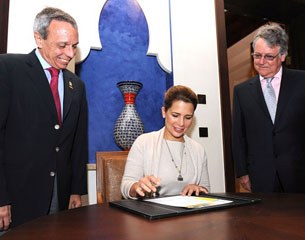 FEI President HRH Princess Haya, 1st Vice President John McEwen and 2nd Vice President Pablo Mayorga today signed the agreement for the formal adoption by the FEI of the Brighton Declaration on Women and Sport, joining an impressive list of signatories
that include the IOC, IPC and numerous International Federations.
The FEI member Federations voted unanimously at the 2011 FEI General Assembly in Rio de Janeiro in support of the FEI becoming a signatory of the Brighton Declaration.
The document was signed during the FEI Executive Board's March meeting and Princess Haya, one of only two female International Federation presidents, used the opportunity to comment on the ongoing commitment of both the FEI and the IOC to promoting women in sport.
"Equestrian sport is one of the few Olympic sports in which women compete on equal terms with men. Signing the Brighton Declaration today shows the ongoing commitment of the FEI to equality in our sport", Princess Haya said.
"The IOC is working hard to have female participation and representation at all levels. The IOC and President Rogge in particular have done so much to promote women in sport and in the Olympic movement, both in the sporting arena itself and on the governance side.
"The Olympic Charter states that sports are a right for everyone and there should be no discrimination in practicing sports on the basis of gender. That is central to the FEI ethos and we truly value the fact that our sport is one based on equality. Not only do men and women compete on equal terms, but we also have women serving in senior positions at all levels in our sport."
Women first competed in Olympic equestrian sport 60 years ago. Denmark's Lis Hartel, individual silver medallist in Dressage at the 1952 Olympic Games, was one of four female riders competing in Helsinki. The first woman to participate in Olympic Jumping was Pat Smythe (GBR), who won team bronze at the 1956 Olympic Games in Stockholm. Eight years later, Lana du Pont (USA) was the first woman to compete in an Olympic three-day event when she rode in Tokyo (JPN) in 1964.
In 1976 in Montreal (CAN), Barbara Kemp became the first woman to design an Olympic Cross Country course. The first woman to design an Olympic Jumping course was Linda Allen, who produced the courses at the 1996 Olympic Games in Atlanta (USA).
The Brighton Declaration on Women and Sport was the result of an international conference on women and sport in Brighton, UK in 1994. The Declaration is based on 10 Principles: Equity and Equality in Society and Sport; Facilities; School and Junior Sport; Developing Participation; High Performance Sport; Leadership in Sport; Education, Training and Development; Sports Information and Research; Resources; Domestic and International Cooperation.
 
More info on the Brighton Declaration on Women and Sport.
Related Links
FEI Bureau Initiates Suspension Proceedings Against International Dressage Riders Club
Saudi Arabia's First Female Olympian Addresses IOC Women and Sport Conference