Austrian Dressage News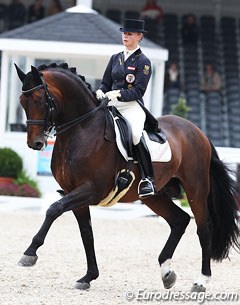 Austrian Grand Prix rider Victoria Max-Theurer has officially announced that she will be training with Wolfram Wittig alongside her father Hans Max. The German magazine St. Georg reported this news today.
Max-Theurer has already received guidance from Wittig in horse sales and training matters for a long time, but the trainer partnership is brand new.
"We started working together just a very short time ago," Max-Theurer told Eurodressage. "It's a partnership where we work together (with my father) and mum as well. I'm very happy with the support of such experts in dressage and we have a great time altogether!"
Vici's long-time coach, her father Hans Max, is slowing down being the head trainer of his daughter. "My father has trained me for the past 20 years, all my achievements I owe to his training," Victoria told St. Georg. "Before that he has led my mother to success for twenty years. He has coached me and my mother to six Olympic Games. In August he'll turn 70 and wants to be supported in his trainer's job and focus more on other fields of interest, like collecting antiques.  So it was his and my wish and will that Wolfram Wittig would guide me in my work."
The coaching by Wittig has already started and the Austrian is pleased with the results so far. "The communication between him, my parents and I works very well according to expectations, as we have the same goal of classical dressage in mind: training our own happy, loose horses who can do the highest movements through careful training and muscle build-up."
Nine-time Austrian Grand Prix champion Max-Theurer is pleased that Wittig was able to free up his schedule to train her. Victoria is currently campaigning two GP horses, Augustin and Eichendorff, and has a third, Salieri, which she prefers to train at home while she focuses on the other horses.
Source: St. Georg
Photo © Astrid Appels
Related Links
Max-Theurer Untouched to Ninth Austrian Grand Prix Champion's Title
Max-Theurer Sweeps the Board at 2011 CDI Stadl Paura