2012 Helsinki Horse Fair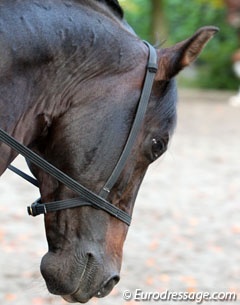 The 2012 Helsinki Horse Fair will feature a historical, Finland's first bitless and spurless dressage competition on Saturday 3 March 2012. The competition will be held without the use of bits and spurs, is intended to raise awareness about horsemanship for riders and spectators.
Bitless competitions have already taken place in several countries in the world, but in Finland this exhibition competition is the first in the history of riding. The competition will be held as an exhibition because it does not comply with SRL/FEI competition rules.
The exhibition competition features some of Finland's best dressage riders, who were willing to accept the challenge.
The performers are:
Janne Bergh - Show Me Colour N
Julia Alfthan-Kilpeläinen - Chirocco
Heidi Sinda - Hessin Jeviiri
Katariina Albrecht - Silkki Musta
Maria-Kristiina Virta - Conquistador S
Taina Rajala - Kiahan Renard
An exhibition competition in the spirit of charity

The judges responsible for evaluating the performances are Tiina Karkkolainen and Inkeri Kostiainen. The level of competition ranges from novice to medium level. After the performance the judges will give public feedback on the performance. At the end of the competition, all horses and riders will be ranked.
The exhibition competition will be held as a charity event, for which Tunne Hevonen magazine will provide a total of 1,200 euro in prize money. The prize sum will be split and handed out to a charity picked by each of the riders.
The competition starts at 12.00 with a warm-up for the horses on the Horse Fair Arena. During the warm-up, Håkan Wahlman, the announcer, introduces the horses and riders. The actual competition begins at 12.30. The focus of the competition is on good training of the horses and on riding skills, but the goal is also to bring more good spirits and fun showmanship into Finnish riding culture.
Further information contact
Minna Lindström or Maria Kervinen
Helsinki Horse Fair will be held in the Helsinki Exhibition and Convention Center on 3-4 March 2012.
Photo © Astrid Appels
Related Links
Bitless or Not, It's About Having the Choice
Edward Allan Buck Advocating Bitless Bridle in Competition in the U.S.A.