FEI Dressage News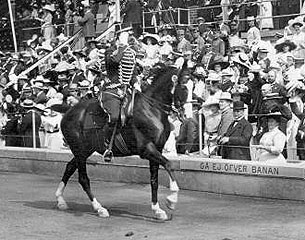 The London 2012 Olympic Games marks 100 years of equestrian sport in the Olympic movement, and FEI President HRH Princess Haya is looking forward to celebrating the centenary at Greenwich Park this summer.
"We are really proud to be celebrating 100 years of Olympic equestrian sport at the London 2012 Games and it's wonderful that we will be doing that at an iconic venue like Greenwich Park right in the heart of the Games," FEI President HRH Princess Haya said today
"Greenwich Park is the second largest venue in London 2012 and tickets for the Cross Country were one of the fastest to sell out. Demand has been so high for our sport that tickets for all the equestrian disciplines were sold out in a matter of weeks, establishing us as one of the most popular sports in the Games.
"This is a real milestone for our sport and is worthy of celebration as it confirms that we are really competing with the other top sports on the number of spectators we can pull in. We're aspiring to provide one of the top quality products of the Games and we can really say to the big international federations, watch out, we're here now!
"We have worked tirelessly over the past number of years to ensure that horse sport falls in line with all the IOC requirements, that it is clean, transparent, cost effective and safe.
"The IOC conducts a thorough review of the Olympic Games programme after each edition of the Games and of course that applies to all the sports on the programme, not only to equestrian sport.
"Protecting our status in the Olympic Movement is very important to the FEI, and my role as a member of the IOC provides me with the opportunity to promote our sport and our Federation in the future. We have made great strides in the past 100 years and we are now looking forward to another 100 years of equestrian sport in the Olympic Games."
Equestrian sport has been part of the Olympic movement since the 1912 Games in Stockholm. It is one of the few Olympic sports in which men and women compete against each other and the only one which involves an animal.
Related Link
Eurodressage Coverage of the 2012 Olympic Games