Australian Dressage News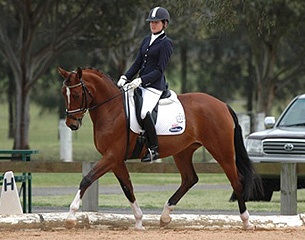 Today the Australian Equestrian Federation announced the three dressage squads which form the National High Performance Dressage Program.
The Elite Squad for the combinations that have been identified as leading combinations in contention for the Australian Team for the next Major Championships ie Olympic or World Equestrian Games.
The National A Squad for talented combinations who, in principle, may not be ready for the next Major Championship, but may be ready for competition at the following Major Championship.
The National Futures Squad for young talented combinations who have been identified as having potential to be ready for future Major Championships.
There is also the Dressage National Youth Squad.
2012 Dressage National Elite Squad
Rider - Horse - Owner(s)
Chantal Wigan - Ferero  - Chantal Wigan and Gary Fairman
Heath Ryan - Regardez Moi - Heath and Rozzie Ryan
Lyndal Oatley - Potifar - Andrew and Carol Oatley
Mary Hanna - Sancette - Mary and Rob Hanna
Mary Hanna - Umbro - Mary and Rob Hanna
Rachael Sanna - Jaybee Alabaster - Beverley and John Edwards
2012 Dressage National A-Squad
Rider - Horse - Owner(s)
Alexandra Berns - Kings Legend - Alexandra Berns
Brett Parbery - Lord of Loxley - Clyde Wunderwald
Brett Parbery - Good As Gold - Carolyn Lieutenant
Brett Parbery - DP Weltmeiser - Susan Duddy 
Hayley Beresford - Belissimo NRW - Zucht-u Sportpferde Schmidt GmbH
Kelly Layne - Raja  - Kelly Layne
Maree Tomkinson - Diamantina - Maree Tomkinson
Matthew Dowsley - De Caprio - Andrea Beatty
Rozzie Ryan - GV Bullwinkle - Olivia Bunn
2012 National Dressage Futures Squad
Rider - Horse - State
Cassia Montgomery - Rebel M  -  NSW
Cassia Montgomery - Fioretta - NSW
Daniella Dierks  - Aber Hallo  -  NSW
Denise Rogan - Virtuel 1  -  NSW
Nadia Coghlan - Fiderdanz  - NSW
Robbie Soster - Danora - NSW
Danielle Shearer -  Riverview Cinderella  - QLD
Hayley Gilbert - Dicavalli Dior -  QLD
Jayden Brown -  San Andreas - QLD
Nicole Tough - Flavio - QLD
Melissa Van Den Berg - Dornkaart - QLD
Tor Van Den Berg - World Royal  - QLD
Tor Van Den Berg - Lady Sinatra - QLD
Angela Donaldson - Danson Destiny - SA
Heather Currie -  Emporio Van De Zwarte Molen - SA
Ria Grivell - Acacia Ridge Galileo  - SA
Lydia Jackson - Flashazz  - TAS
Lydia Jackson - Splendido - TAS
Ruth Walker - Walden Park Columbus  - TAS
Georgina Cattermole - Bellaire Cannavaro - VIC
Holly Stansfield-Smith - Diva Royale  - VIC
Jenny Bray - CJP Diamon Dazzler - VIC
Lilah Nieuwland - Wajama - VIC
Sidney Hoffman - Freedom C  - VIC
Tegan Huitson - Heatherton Park Fame  - VIC
Colin Chantler - Bonita  - WA
Deon Stokes - Royal Oak II  - WA
Sally Rose Mayall - Hollingrove Sunburst - WA
Related Links
Equestrian Australia Announces Olympic Shadow Teams
Australian 2011-2012 Futures Squad for Dressage Announced
Australian Dressage Squads for 2011 Announced
Dressage Talent Identification for Australian Futures Squads