Irish Dressage News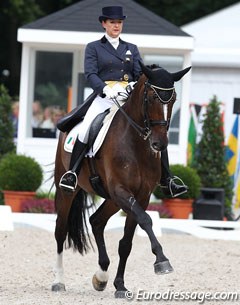 For a record-breaking eight time, Anna Merveldt is the winner of The Irish Field Dressage Rider of the Year Award. The Italian based Merveldt continues to be Ireland's number one Grand Prix rider with top performances at the biggest competitions in Europe.
Merveldt took second place with Coryolano in the Grand Prix Special at the Munich World Dressage Masters show in May. She followed that up by qualifying once again for the Grand Prix Kür in Aachen last July, the only Irish rider ever to have achieved this distinction.  In her bid for Olympic qualification Anna set a new Irish record when scoring 75.72% to place second in the Grand Prix Kür in Vienna last November.
The points gained in Austria saw her break into the top 50 in the FEI World Dressage rankings.  This is the key to Anna's ambition to compete as an individual for Ireland at the London Olympics.  She is the only Irish rider to have reached an Olympic final when placing 11th with Rapallo at the games in Barcelona twenty years ago.
Unfortunately, Anna was injured when a car drove into her vehicle as she left her yard in Milan on November 17th 2011.  A broken rib below her left arm was diagnosed and on medical advice she had to stop riding to avoid the risk of puncturing a lung.  The Irish rider has since made a full recovery and will be back out competing with her 16 year-old Bavarian Warmblood gelding 'Coryolano' before the end of February.
The Irish Field Dressage Rider of the Year Award was first presented in 1997. The previous winners are as follows:
1997 – Yvette Truesdale
1998 – Heike Holstein
1999 – Katy Price
2000 – Anna Merveldt
2001 – Anna Merveldt
2002 – Anna Merveldt
2003 – Heike Holstein
2004 – Anna Merveldt
2005 – Heike Holstein
2006 – Anna Merveldt
2007 – Heike Holstein
2008 – Judy Reynolds
2009 – Anna Merveldt
2010 – Anna Merveldt
2011 – Anna Merveldt
Related Links
Anna Merveldt Injured in Car Accident
Merveldt Wins The Irish Field Dressage Rider of the Year Award for Record Sixth Time