German Dressage News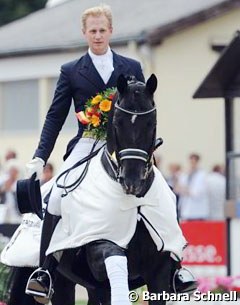 The German Equestrian Federation has allocated Count Dieter von Landsberg-Velen showgrounds at Castle Wocklum in Balve, Germany, as venue  for the German Dressage and Show Jumping Championships for the coming five years until 2016.
Dieter's daughter Rosalie is show host and has made many efforts in providing top quality facilities for the riders. "It's unbelievable how this show has developed over the last few years," said German show jumping team trainer Otto Becker. More than 20,000 visitors came to the Nationals in Balve, where over 400 horses compete.

 "We have visions for the future without losing sight of tradition," said Rosalie von Landsberg-Velen. "We continue to develop the show grounds based on innovative ideas and concepts so the athletes and guest can feel good."
For 2012 the dressage arena and dressage warm up ring will get new footing so that sport can go on when the weather is not so good.
The 2012 German Dressage Championships in Balve takes place on 31 May to 3 June 2012
Photo © Barbara Schnell
Related Links
Rath Secures National Title with Totilas at 2011 German Championships in Balve
Photo Report: 2008 German Dressage Championships