2012 Olympic Games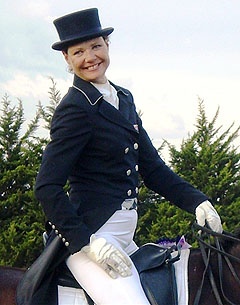 Dressage rider Louisa Hill and her horse Antonello have been named as New Zealand's first equestrian representatives for the 2012 London Olympic Games. She was selected by the New Zealand Olympic Committee.
Secretary General Kereyn Smith said she was delighted to welcome Hill to the team. "The Olympic selection criteria agreed between Equestrian Sports New Zealand and the New Zealand Olympic Committee was tough," she said. "We're delighted she has met the challenge and we look forward to seeing her in London."
In hearing the announcement, Athens Olympian Hill said it was an exciting and big step forward. "It's still a long road to London, but I now feel it is really going to happen and we can start making final plans."
ESNZ chief executive Jim Ellis said the announcement would be celebrated by the whole of the nation's equestrian community. "Louisa's selection for her second Olympics is well-earned recognition for her strong high performance focus as well as her talent in reaching the pinnacle of her sport on a home grown horse."
Ellis said it was particularly special for the Hill family as the horse was owned by Louisa, her mother Jenny and sister Anna. "Her selection endorses the recent decision of High Performance Sport New Zealand to invest in her campaign to London," he said..
He was hopeful New Zealand may still have other dressage combinations selected for the games, with several others already in Europe seeking the necessary qualifications.
Qualification for the New Zealand Olympic team demands athletes and riders show they can finish in the top 16 in the world.
ESNZ high performance director Sarah Harris said it was a real thrill for New Zealand Dressage to have Hill named. "We set the bar high for all our riders hoping to make selection for London, and Louisa has just smashed those targets right out of the water."
It could only auger well for the rest of her campaign. Hill will compete at the National Dressage Championships and the 2012 New Zealand Horse of the Year in March before heading to Germany where she will base with her trainer Andreas Mueller.
"Those two events will give her big atmospheres equal to any she is likely to face offshore and both are world-class competitions."
Harris said she was confident Hill was on track for a 70% test at the games which would be a New Zealand record. "She is a complete professional and real competitor."
Just two New Zealanders have competed at the Olympic Games in dressage. They are Kallista Field (Sydney 2000) and Hill herself who competed at the Olympic Games for the first time at Athens 2004.
Related Links
Eurodressage Coverage of the 2012 Olympic Games
Hill and Way Selected for 2012 and 2014 New Zealand Dressage Squad