Dutch Dressage News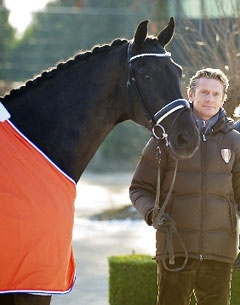 Edward Gal has received his first horse to ride from brand new sponsor Gaston Glock: the 2001 born Dutch warmblood gelding Undercover (by Ferro x Donnerhall x Roemer).
Glock acquired the 11-year old Grand Prix level trained gelding and put him in training with Gal in Harskamp, The Netherlands, a few weeks ago. Undercover is ready to go Grand Prix and was previously trained and competed by Stefano van Zuijlen.
"Edward was able to get on and ride him straight away," Gal's business partner Nicole Werner wrote. "Undercover is nicely trained by his previous rider and does all the Grand Prix mvoements. Everything is still very green but the way it looks now is that he takes on the work easily and it all looks very promising."
Glock also expressed interest in buying Totilas to return the ride to Edward, but Paul Schockemohle and Ann Kathrin Linsenhoff are not selling the 12-year old black stallion. "Two parties are involved in the sale of a horse (buyer-seller). Totilas is not for sale," Werner told Horses.nl. "Of course we want him back for Edward, but that's out of the question now because he's not for sale."
The rumour about a potential sale of Totilas back to Holland has put the rumour mill into overdrive, especially because a small Austrian newspeper (Kleine Zeitung) published an unsubstantiated statement that Glock would acquire Totilas as 2012 Olympic ride, which is impossible considering the 31 December 2011 Olympic transfer cut-off date.
After the disappointing presentation of Totilas at the Paul Schockemohle stallion show last Sunday, news even passed through the grapevine that Totilas was kept behind closed doors and guarded by security at Anky van Grunsven's stable in Erp, The Netherlands, for bootcamp training.
Fact is that the stallion is now at Paul Schockemohle's station in Muhlen, Germany, where he is being trained by Matthias assisted by his father Klaus Martin Rath, in preparation of next Sunday's stallion show in Vechta.
Photo © Arnd Bronkhorst
Related Links
Austrian Gaston Glock Signs Minderhoud, Gal and Werner for Ten Years
Glock's Tango to Stay with Minderhoud at Least Until August 2012
Rath-Janssen Alliance Sparks Controversy