2011-2012 KWPN Stallion Competition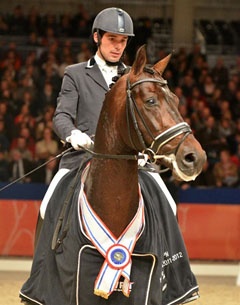 Chippendale, Bon Bravour and Apache became the grand winners of the 2011-2012 KWPN Stallion Competition Finals which were held at the 2012 KWPN Stallion Licensing in De Brabranthallen in 's Hertogenbosch, The Netherlands, on Friday evening 3 February 2012. The snow blizzard which hit The Netherlands as of noon disrupted the program a bit but it didn't make the finals less exciting.
At L-level Gertjan van Olst's rising 5-year old stallion Chippendale (by Lord Leatherdale x Negro) dominated a field of four competitors which were presented to the judges in groups of two. Ridden by Spanish Severo Jurado Lopez the bay stallion was a bit nervous and sweaty but excelled in trot and canter with his scope and potential. He scored three times 9 for canter, self carriage and suppleness and conformation.
Judges Johan Hamminga, Hanneke Gerritsen and Marianne Dorresteijn placed Mirelle van Kemenade with Cachet L (by Jazz x Ferro) in second position and made them reserve champions. The sympathetic bay stood out with his canter and expression. The Oldenburg stallion Jack Sparrow, who was the leader in the provisional ranking after four qualifiers, did not have to compete in the Finals as they are restricted for KWPN bred stallions.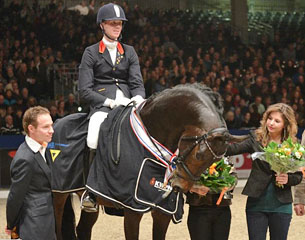 Four combinations gathered for the M-level Finals in which Belgian Tom Franckx was a league of his own aboard the Dutch owned Bon Bravour (by Painted Black x Chronos). The bay stallion paints a beautiful image of smoothness and activity. The pair scored 8.5 for conformation and general impression and got a 9 for the uphill canter. The trot, which could be slightly quicker from behind, received an 8.5.
Kirsten Beckers and the tall bay stallion Bristol (by Jazz x Goodtimes) were the reserve champions. Bristol still appears a bit green but has potential as a dressage horse.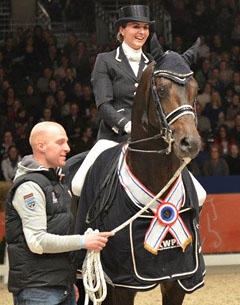 Another four combinations presented themselves in the Z-division which was won by judges' and crowds' favourite Apache (by UB40 x Krack C). While the sporty and very athletic bay stallion amazes with his brilliant trot work, he disappoints with his unfocussed attitude. In the very professional hands of Emmelie Scholtens the stallion is able to excel in his basic gaits, but throughout the competition series as well as at the finals Apache is difficult to concentrate on the job. He regularly whinnies and can be all over the place either in the test (especially in walk) or at the prize giving, in which he needs to be man-handled from the ground as a safety precaution. Nonetheless the modern stallion shines in the show ring and received a 10 for his unlimited trot. The canter, conformation and general impression all scored a 9, while he got 9.5 for self carriage and suppleness.
Hans Peter Minderhoud and the bright bay Zizi Top (by Tango x Ferro) became the reserve champions with an 81.5 point scoring finals test.
Photos courtesy www.kwpn.nl
Results Finals 2011-2012 KWPN Stallion Competition - 's Hertogenbosch
Rider - Horse - Provisional score - Finals score --- TOTAL
L-level
1. Severo Jurado Lopez - Chippendale (by Lord Leatherdale x Negro) - 252.0 - 84.5 --- 336.5
2. Mirelle van Kemenade - Cachet L (by Jazz x Ferro) - 243.5 - 83.0 --- 326.5
3. Philip van Ommen - Chagall D&R (by Jazz x De Niro) - 228.5 - 76.5 --- 305
4. Tom Franckx Goen - Charming Mood (by Winningmood x Contango) - 225.5 - 77.5 --- 303
M-level
1. Tom Franckx Goen - Bon Bravour (by Painted Black x Chronos) - 340 - 84 --- 424
2. Kirsten Beckers - Bristol (by Jazz x Goodtimes) - 307 - 74.5 --- 381.5
3. Stephanie Dorr - Bojengel (by Uptown x Gribaldi) - 303 - 74.5 --- 377.5
4. Diederik van Silfhout - Briljant (by Uphill x Darlington) - 239 - 79 --- 318
Z-level
1. Emmelie Scholtens - Apache (by UB40 x Krack C) - 265,5 - 89 --- 354,5
2. Hans Peter Minderhoud - Zizi Top (by Tango x Ferro) - 248 - 81.5 --- 329,5
3. Theo Hanzon - Amazing Star (by Flemmingh x Ferro) - 240.5 - 80 --- 320.5
4. John Tijssen - Armani (by United x Jazz) - 225 - 76 --- 301
Related Links
Chippendale, Bon Bravour, Zizi Top Ace Fourth Leg of 2011-2012 KWPN Stallion Competition
Jack Sparrow, Briljant, Apache Win Third Leg of 2011-2012 KWPN Stallion Competition
Jack Sparrow, Bon Bravour and Apache Win Second Leg of 2011-2012 KWPN Stallion Competition in Roosendaal
Jack Sparrow, Bon Bravour and Apache Win First Leg of 2011-2012 KWPN Stallion Competition in Hengelo