Norwegian Dressage News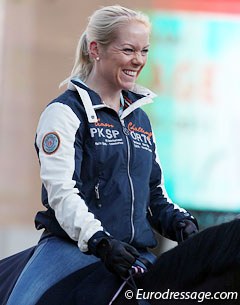 Norwegian number one Grand Prix rider Siril Helljesen has received the support from several important Norwegian dressage enthusiasts to help her in her campaign to qualify and compete at the 2012 Olympic Games in London.
Helljesen got this special financial back up from private supporters when it became known that she would receive no official funding for her Olympic enterprise aboard the Danish warmblood mare Dorina (by Don Schufro).
The Norwegian dressage company JJ Horses announced that they would sponsor Helljesen with 50,000 Norwegian Kroner (approx 6,500 euro) and encouraged other private individuals to do the same.
"Siril is an outstanding role model and is huge for dressage in Norway. This work requires and deserves financial support. We want
to encourage the rest of equestrian Norway to do the same," JJ Horses explained.
Soon after JJ horses announced their support, Norwegian stallion owner Kristin Andresen and Elin Hurvenes each committed to another 50,000 NOK in support of Siril.
Photo © Astrid Appels
Related Links
Eurodressage Photo Database: Siril Helljesen
Helljesen and Dorina Award Recipients at 2012 Norwegian Horse Gala