Dutch Dressage News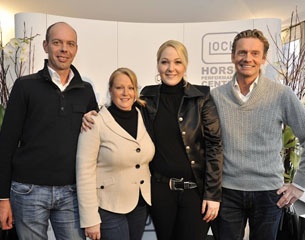 Austrian equestrian investor Gaston Glock has signed a 10-year old sponsorship contract with the Dutch dressage trio Hans Peter Minderhoud, Edward Gal and Nicole Werner. Glock will be supporting the dressage career of the trio and has also acquired the licensed stallion IPS Tango.
Gaston Glock, who made his fortune with an international hand gun company and has a huge equestrian centre in Treffen, Austria, acquired the KWPN licensed stallion Tango (by Jazz x Contango) to support Hans Peter Minderhoud in his pursuit of an Olympic berth at the 2012 Games in London.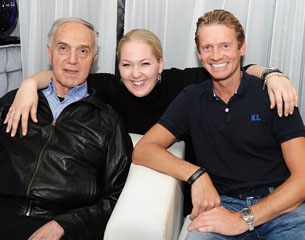 The goal of the 10-year contract is to find the right young horses, train them to Grand Prix level and keep the right ones for an international show career. A Dutch branch of the Glock Horse Performance Center will be created in The Netherlands, from which the Dutch delegation will operate. Though Gal, Werner and Minderhoud will continue to reside in Holland, each of them will travel to Austria to train horses, teach riders and pass on their knowledge on a regular basis depending on the show schedule.
The Dutch trio flew to Austria today with a private jet to sign the contract.  Glock recently acquired the KWPN licensed stallion Ziesto as well as Dr. Cesar Parra's FEI stars Grandioso (by Grosso Z) and Federleicht (by Furst Piccolo). Dutch Marcel Schoenmakers is the head trainer at the Glock Horse Performance Centre in Austria.
"Patience pays off. We are very happy with our new sponsor," Nicole Werner commented.
Related Links
Dr. Cesar Parra Sells Grandioso and Federleicht to Austria
KWPN Stallion Ziesto Sold to Austria
Donna Silver, Olympic Hopeful for Hans Peter Minderhoud