German Dressage News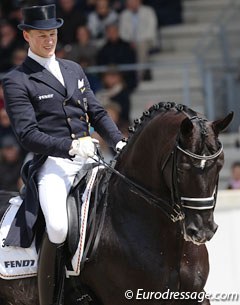 German team silver medallist Matthias Rath has hired Dutch team trainer Sjef Janssen as his new trainer. For the moment the new partnership only includes the training of Rath on his rising FEI horses Bretton Woods and Furst Romancier and not Totilas until after the 2012 Olympic Games.
"I do this with many other people, training young horses," Janssen told the German magazine Pferdesport International. "But Totilas I won't train. We agreed upon that because it would be competition for us; a conflict of interest."
Team Totilas, which includes Ann Kathrin Linsenhoff, husband Klaus Martin Rath and business partner Paul Schockemohle, has also asked for Sjef to coach Matthias on Totilas but the 61-year old Dutchman declined.
"I told them straight away I can't do that," Janssen explained. "I hope to beat Germany in London. I want to assemble a good Dutch team and to train Totilas alongside it won't fit."
While Janssen refuses to train Rath on Totilas, he has no issues with training Swedish Patrik Kittel on Scandic, who captured Kur bronze at the 2011 European Championships. Team Sweden finished fourth at the Europeans right behind the bronze medal winning Dutch team.
Before the arrival of Totilas in Germany, Rath was trained by Klaus Balkenhol. On Totilas Matthias was only instructed by his father.
"I'm happy that to have found an extra coach in the best dressage trainer of the world," Rath commented. "Most important is that I improve my personal development and broaden my horizons."
"It is impressive to see what successes Sjef Janssen has achieved in the past ten years with different riders and horse types," Rath continued. "I'm thinking of Bonfire, Salinero or Parzival. These are all horses coached by him which have been in the sport healthy and for a long time."
"We can and will learn a lot from him. I'm looking forward to our co-operation," Rath concluded.
Related Links
Totilas Not to Compete at 2012 World Dressage Masters Palm Beach
Rath Secures National Title with Totilas at 2011 German Championships in Balve
Rath Prevails But Peters King of the Kur at 2011 CDIO Aachen