Swedish Dressage News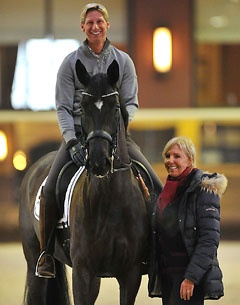 Edwin Kohl and Arlette Jasper-Kohl of Gestut Peterhof have acquired the Danish warmblood mare UNO Donna Unique as 2016 Rio Olympic hopeful for their Swedish rider Patrik Kittel. The black mare was World Young Horse Champion in Verden in 2010 and is trained at Grand Prix level.
Donna Unique is bred by Joan Andreasen and Søren Melgaard of Stuteri UNO and was co-owned by the breeders and Andreas Helgstrand. She is by Don Schufro out of a Falkland dam.
The black mare was broken in and trained as a 3-year old by Dorthe Sjobeck-Hoeck and won the Gold Medal at the Danish Elite Mare Show. Andreas Helgstrand took over the ride on the mare when she was 5 and competed her at the 2009 and 2010 World Young Horse Championships where she became reserve champion as a 5-year old and champion as a 6-year old. They also were Danish Young Horse Champion in 2009. In 2011 the combination won the Youngster Cup for 7-year olds in Vilhelmsborg, Denmark.
The now 8-year old Donna Unique moved into new ownership as 2016 Olympic hopeful for Patrik Kittel. The negotiations for the sale of this horse began in November 2011 and yesterday the black beauty moved into her new barn.
"We took this mare into our heart a long time ago and a dream came true with this acquisition," said Arlette Jasper-Kohl whose husband manages the pharmaceutical company Kohlpharma. "She is really something special and just being around her makes us really happy."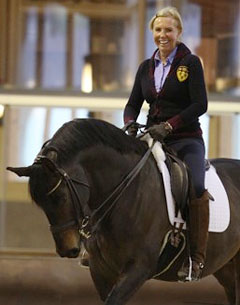 The Kohl family lives at Gestut Peterhof in Perl, right near the Luxembourg border. They also own Grand Prix stallions Florett As and Silvano. Arlette Kohl confirmed that all horses get a luxury and diverse treatment at her equestrian centre. "Besides going into the field eachday, they are also trained on the canter track," she said.
Kittel is extremely pleased with his new ride. "This horse has extraordinary quality in all aspects. I'm very grateful that my sponsors enabled me to promote such a talented horse."
Kittel told Eurodressage that he first fell in love with Donna Unique at the World Championships. "I already saw her there and she looked amazing," he said. "Some months ago I saw her debut in the Prix St Georges on Youtube and that was the final push. I was up and watched the other horses. I saw Andreas ride her and she instantly got my attention."
According to Patrik, Donna Unique is true to her name. "Everything is special with Donna. She has three super super good gaits, she is black and hot, but still very calm. I can go on for hours," said a beaming Kittel. "What I really like is that Andreas did a super job but she's still not there yet and I can do the last touch, which I think makes the big difference when you want to real top sport; train the Grand Prix movements together."
While Donna Unique already displayed her talent for passage as 7-year old at the Danish Gala Show in Herning (see video), it will take one more year for her to be confirmed at Grand Prix level. Kittel has not yet made any immediate show plans for Donna Unique but the duo will definitely compete at the CDI 4-star held at Gestut Peterhof on 6 - 9 September 2012, where a qualifier for the Nurnberger Burgpokal will take place.
"One thing I have learnt is that I take it as it goes, we will not stress her and Edwin and Arlette Kohl are amazing sponsors," Kittel told Eurodressage. "They trust me and let me do it in my rhythm. I cannot even begin to tell how happy I am having them supporting me in the good and bad times. It's very special and I hope and know that Donna will bring Arlette, Ed and myself and the team around us some really good times."
Photos of Donna Unique's arrival in Germany on Patrik Kittel's website.
Text © Eurodressage / No reproduction allowed
Photos © Oatley / Becker
Related Links
Torveslettens Stamina and UNO Donna Unique Win Youngster Cup in Vilhelmsborg
Andreas Helgstrand Buys 50% Share in UNO Donna Unique
Golden Glory for UNO Donna Unique at 2010 World Young Horse Championships
Uno Donna Unique Wins the 2009 Danish Young Horse Championships