German Dressage News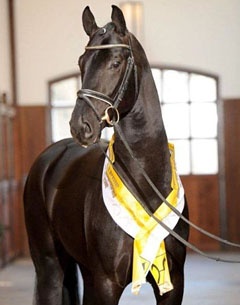 Brand new "riding master" Ingrid Klimke has added yet another great horse to her stables. A while ago she received the ride on Grand Prix horse Liostro, but the Opländer family also based their licensed Hanoverian youngster St. Moritz Junior with Klimke.
The rising 5-year old black Hanoverian stallion St. Moritz Junior (by St. Moritz x Wie Weltmeyer) is bred by Helmut Krentzel and owned by the Opländer family. He moved to Klimke's almost half a year ago.
Klimke has test ridden the stallion and noticed that besides the stallion's natural dressage skills, the black is also endowed with show jumping potential.
"Based on his optimal confirmation and his three expressive and powerful basic gaits this horse has everything for the training of a successful dressage horse," Klimke wrote. "He showed courage and wit when jumping his first fences so that we'll also compete him in the show jumping horse tests."
Klimke praised the horse's rideability. "I'm looking forward to training this horse and preparing him for the shows."
At the beginning of January 2012, Klimke also received a new eventer to ride from Madeleine Winter-Schulze. Escada JS FRH is the reserve World Young Horse eventing champion and will be further trained by Ingrid.
Related Links
Ingrid Klimke Receives Riding Master Title
Liostro in Training with Ingrid Klimke