German Dressage News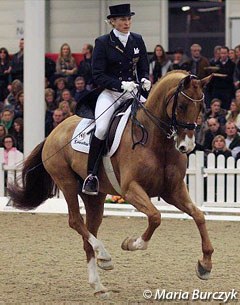 German international eventing rider and Grand Prix dressage rider Ingrid Klimke has been bestowed with the title of "Riding Master" at the national competition in Munster on Saturday 14 January 2012. Klimke is the second female ever to earn the title.
The news that the 43-year old Klimke would receive the Riding Master title was already known for quite a few months, but had to be kept a secret until the celebration in Munster itself. Guests included 250 of Klimke's friends and colleagues who joined her in Munster for the award ceremony.
The Riding Master title is bestowed on German equestrian individuals which have shown exceptional commitment to and achievements in the sport as rider and trainer.
Ingrid Klimke rose to stardom in the 1990s when she booked her first eventing successes with Pinot and Grand Prix. Her big break-through came with the dapple gray eventer Sleep Late with which she achieved her first out of four German national eventing champion's titles. She competed at her first eventing Olympics in 2000 and won bronze in Blenheim in 2003.  She won team gold at the 2006 World Equestrian Games and 2008 Olympic Games (on Butts Abraxxas).
Parallel to her international eventing career, Klimke proved herself as a gifted dressage rider. She has trained eight horses to international level and became World Young Horse Champion in 2006 with Damon Hill. She trained the liver chestnut stallion to Grand Prix level before he moved to Helen Langehanenberg. She was also successful in the World Cup circuit with Nector van het Carelshof in the early 2000s and has now made her Grand Prix come back on Liostro.
Klimke teaches classes at the Westfalian riding school in Munster and is a much sought-after clinician in Germany and abroad.
There are 23 Riding Masters in Germany still alive to date; 5 are drivers and 4 vaulters. Ingrid Klimke is only the second woman to earn the title. The first was Dagmar Krech in 1992.
Photo © Maria Burczyk
Related Links
Klaus Balkenhol Proclaimed Riding Master