2011 PSI Auction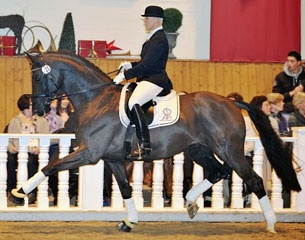 The 5-year old Hanoverian stallion Der Designer (by De Niro x Weltmeyer) broke the one million euro barrier at the prestigious 2011 PSI Auction in Ankum, Germany, on 11 December 2011. The black stallion sold for 1,1 million euro to a Russian buyer and became the top selling horse of the 32nd Performance Sales International, hosted by Paul Schockemohle and Ullrich Kasselmann.
The Russian buyers' table had Russian Grand Prix rider Inessa Poturaeva accompanying them at the auction. The table also included the wife of Sergey Maslov, the president of the Russian Equestrian Federation, who has bought horses at PSI before.
The Performance Sales International proved once again that quality has a price and exactly that quality and prestige of buying at the most exquisite warmblood auction in the world attracts buyers from all over the world.
A Lebanese buyer purchased the most expensive show jumper, the 6-year old bay stallion Chadino (by Chacco Blue) for 700,000 euro.
High prices were paid for the dressage horses in general. The 3-year old Hanoverian mare South Coast (by Sir Donnerhall x Londonderry) sold for 520 000 to the Housten family. The 4-year old stallion Sir Caramello (by Sir Donnerhall x Feiner Stern) sold for 500,000 to Russia. Moscow based buyers also invested 200,000 euro for Florimax (by Florencio x Donnerhall).
The 4-year old Oldenburg gelding Siebenstein (by Sir Donnerhall x Diamond Hit) moves to The Netherlands for 500,000 euro.  The same price was paid for Dai Jin (by Don Frederico x Weltmeyer), which moves to David Wilson's barn in the USA.
Duke of Britain (by Dimaggio x Rubinstein) achieved a knock down price of 360,000 euro. Natascha van Dyk, wife to famous DJ Paul van Dyk, acquired Hopkins (by Hotline x Donnerhall) for 305,000 euro. French buyers acquired Hot Spot for 200,000 euro and Swiss buyers paid 160,000 euro for Bajo.
Greek young rider Angela Sklavonous became the new owner of Sanscouci (by Sir Donnerhall x Sidney), while Chinese customers acquired Dono di Maggio (by Dimaggio) but the horse will stay in training in Germany. Sarotti (by Sir Donnerhall x Cagliostro xx) sold to Dubai.
One of the top horses listed for the auction, the licensed stallion Sarkozy (by Sandro Hit x Weltmeyer) ended up not being offered for sale in the auction.
The P.S.I. Auction 2011 achieved an average price of 271,304 euro for the dressage horses and 272,583 euro for the show jumpers. A total of over 6 million was reached for the show jumpers (6.5 million) as well as for the dressage horses (6.2 million).
P.S.I. Charity: Bidders fight over a "little horse"
Boxing star Vladimir Klitschko put up a bidding duel with the Russian Nikolai Aristov and won as the hammer fell at 30,000 euros for the Lewitz Paint yearling that was auctioned off to help the charity "Pink Ribbon, founded to help breast cancer victims.
Paul Schockemoehle was quick to help the losing bidder out of his understandable disappointment – Aristov also received a real live Lewitz paint for his 27,000 euro bid, because Schockemoehle has quite a few at his Lewitz Stud.
Pink Ribbon "Call Me Pink" is an initiative started by Carina Carlsen, who runs the Norwegian dressage portal www.dressursaklart.no and whose mother is suffering with cancer. As is every year, Schockemoehle and Kasselmann use the P.S.I. to support a good cause.
Related Link
Eurodressage PSI Auction News