American Dressage News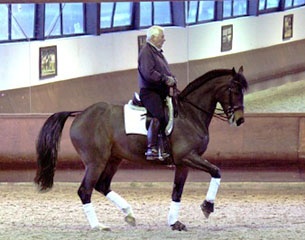 Only days after revealing his upcoming star horse Sundance at the 2011 USDF Convention, Steffen Peters has been blessed with another new horse that can follow in Ravel's footsteps. Sponsor Akiko Yamazaki acquired the 9-year old Westfalian gelding Legolas (by Laomedon x Florestan II x Profi) at Hof Kasselmann.
The sale of Legolas has been in the pipeline since September but the purchase was finalised this week. Steffen Peters tried out the horse for the first time right before the Pan American Games and was only able to return with sponsor Yamazaki after the Games.
Born in 2002 Legolas is bred by Johannes Kissing and was acquired by Ullrich Kasselmann and Paul Schockemohle of Performance Sales International as a youngster. The bay gelding sold at the 2006 P.S.I. auction to a PSI client. Later on, the horse was bought back by Kasselmann, who trained him to Grand Prix level himself.
"He's a top horse and I wasn't sure I would sell him," Ullrich Kasselmann told Eurodressage. "Then my son (François) and Ulf (Möller) told me to offer him to one of the best riders in the world."
The bay gelding has little show experience and was only briefly competed by Insa Hansen as a 5-year old during the 2007 show season. Though trained at Grand Prix level, he is still a diamond in the rough.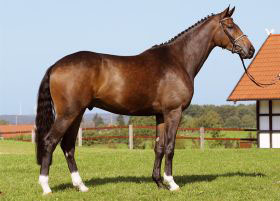 "He was talented as a youngster, but not a super star. He doesn't have much show experience, but he is always very concentrated and is a very good sport horse. He has an amazing piaffe and passage," Kasselmann added. "He loves to do it and can easily do all the collected work."
For the occasion of Legolas' sale, the 63-year old Ullrich Kasselmann was willing to get videotaped on this horse. Ullrich, who still trains horses at home but keeps his talent in the saddle private, said he was spurred by François and Ulf to do the video. Eurodressage received the exclusive opportunity to show a snippet of Steffen Peters' new Grand Prix horse Legolas with Kassemann aboard.
Legolas is scheduled to arrive in the U.S.A in a fortnight.
Related Links
Steffen Peters Unveils New Star Horse at 2011 USDF Symposium
PSI Auction News on Eurodressage