Finnish Dressage News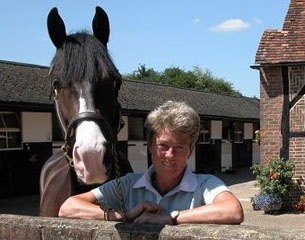 Finnish Olympian and renowned dressage trainer Kyra Kyrklund celebrated her 60th birthday today. The British based dressage rider celebrated her birthday by playing tourist in Vienna all day and watching the morning training session at the Spanish Riding School.
Born in Helsinki, Finland, on 30 November 1951 Kyra was mad about horses as a child and used to ride her godmother's draught horses during summer holidays. After a fall resulting in a broken arm her parents bought her ten riding lessons at a riding school in Helsinki. Little did they know what they started by this.
Few riders in the world have managed to train and successfully compete so many different horses at international Grand Prix level. Kyra has obtained this exceptional result fourteen times, with Piccolo, Nör, Matador, Ramon Navaro, Edinburg, Vancouver, Flyinge Amiral, Midt-West Ibi-Light, Dakar, Patrick of Finland, Master, Asterix, Lillemarkens Arkibal and Max.
Kyra competed at six Olympic Games, so far: the 1980 Moscow Olympics with Piccolo, the 1984 Los Angeles Olympics with Nör, the 1988 Seoul Olympics with Matador, the 1992 Barcelona Games with Edinburg, the 1996 Atlanta Games with Amiral and the 2008 Hong Kong Olympics with Max.
Related Links
Matador, a Scandinavian Fairytale
Kyra Kyrklund, New IDRC President
Kyra Kyrklund to Stay in England Afterall
2011 Global Dressage Forum: Kyra Kyrklund on Collecting Body and Step
Rider in the Spotlight: Kyra Kyrklund