Dutch Dressage News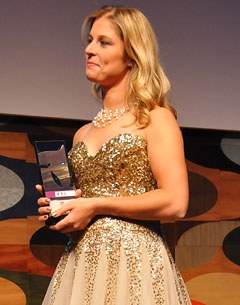 No equestrian personalities have been nominated to contest for title of Sport Figure of the Year at the annual Dutch NOC-NSF Sport Gala, where the most successful Dutch athletes, teams and trainers of the year are celebrated during a special gala evening show.
The Dutch Equestrian Federation put forward Adelinde Cornelissen for the title of Female Athlete of the Year (winner World Cup Finals, two gold medals at the 2011 European Championships) and Sjef Janssen for the title of Trainer of the Year (Dutch Team Trainer). Show jumper Maikel van der Vleuten was selected for the Young Talent of the Year Award.
Unfortunately, none of them have been picked up by the NOC-NSF selection committee, which consists of some of the best former Dutch athletes across various disciplines as well as an expert panel (e.g. Pieter van den Hoogenband, Leontien Zijlaard-van Moorsel, Joop Alberda, Ewoud van Winsen, and Jeroen Bijl).
Though the equestrian sport is one of the few disciplines in The Netherlands which guarantees medals at major international championships, the equestrian athletes are surprisingly ignored at the NOC-NSF Sport Gala. In 2010 Edward Gal was probably the most successful Dutch athlete of all disciplines but he also got snubbed at the Sport Gala. Anky van Grunsven won the Athlete's title only once in 1994.
This year's male athletes' nominees are skater Bob de Jong, fencer Bas Verwijlen and gymnast Epke Zonderland. Female nominees are swimmer Ranomi Kromowidjojo, cyclist Marianne Vos and skater Ireen Wüst. The nominees for coach of the year are Brian Farley (baseball), Jacco Verhaeren (swimming) and Roel Verwijlen (fencing). The Young Talent Award nominees are Jeffrey Herlings (motorcross), Sharon van Rouwendaal (swimming) and Dafne Schippers (athletics).

The 2011 NOC-NSF Sport Gala takes place on Monday 12 December 2011 at the World Forum in The Hague.
Related Links
Anky van Grunsven nominated for 2008 NOC-NSF Sport Gala
Adelinde Cornelissen, FEI Athlete of the Year 2011