German Dressage News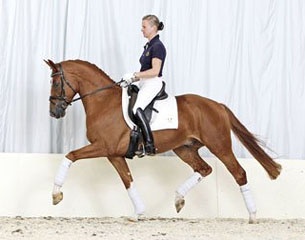 At the 2011 Hanoverian November Auction in Verden, Germany, on Saturday 12 November 2011, one of the auction team riders fell off her horse and was brought to the hospital in critical condition.
Auction rider Melanie Wienand fell off a young horse when it shied and bolted from the flower decorations in the arena, where 3,000 people were attending the auction. She crashed her head on the ground, which made her lose consciousness straight away. Wienand wore a helmet which cracked upon impact. Doctors in the audience gave her first aid until an ambulance arrived. She was taken to the hospital in Rotenburg, where she arrived in critical condition.
Auction manager Jorg-Wilhelm Wegener confirmed to a Weser Ems newspaper yesterday that the young rider is in the intensive care unit.
One month ago the 31-year old Wienand rode auction horse Lemony's Nicket when it sold for 900,000 euro to the U.S.A.
Remarkably, for the first time the Verden auction riders were actually wearing helmets during the auction, which is a new policy as before helmets were not mandatory. During the photography session for the each auction catalog the riders do not wear a helmet. In the past the riders wore no helmets during the auction but were sometimes seen with top hats.  They only had helmets on for the video-taped training sessions.
Photo © Tammo Ernst - Photos of the November 2011 auction here.
Related Links
Aladin, Top Seller at 2011 Hanoverian November Auction
Lemony's Nicket Sold for 900,000 euro to U.S.A at 2011 Verden Elite Auction