2011 CDI Toronto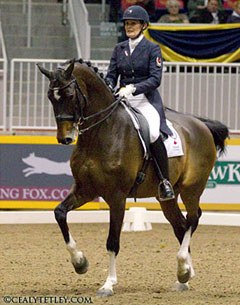 Ashley Holzer and Breaking Dawn topped the Grand Prix test at CDI Toronto on 9 November 2011. Aboard Breaking Dawn, formerly known as Ultiem's Flemming, Holzer scored 69.319% to capture first place in the Grand Prix test at the Royal Winter Agricultural Fair. Breaking Dawn is a a bay 10-year-old Dutch Warmblood gelding (by Akribori) which Holzer co-owns with P.J. Rizvi,
"I'm extremely happy with his Grand Prix performance - he went in and did his best - I know he couldn't have been any better. And he almost seemed to like the people clapping for him! I was pleasantly surprised and happy for him. He's amazing - every time I get on him I'm so pleased. I'm very lucky to get to ride him. I'm thrilled.
Holzer received a wild card to enter the competition in Toronto. "It was my fist time doing a grand prix with this horse - we received a wild card to get in because got an over 70 at the last big show - I don't have that many big shows available to qualify for the Olympics so I'm very grateful to come here on a wild card."
"I was more than a little nervous about coming to the Royal with a new horse - I don't think he has ever been at a show quite like the Royal. It's quite the experience, withClydesdales and hitches and road horses and jumpers... it can be overwhelming. But he's handled it very well so far."
In preparation of this event, Holzer tried to get "Edward" used to more music and the electric atmosphere typical for The Royal. "We turned the music on in the arena for the first time a few weeks ago, and he got VERY tense - so my brother came and installed a sound system in my arena in New York! "Edward" has been listening to music at a very loud level for the past two weeks."
Holzer changed the horse's name to Breaking Dawn because her husband is a partner in the production company for the Twilight movies, hence "Edward". PJ's other horse in the barn is "Bella", aka "New Moon".
Winter and Proton are the Runners Up
Riding Cindy and Neil Ishoy's 17-year-old Baden-Wurttemburger gelding Proton, Victoria Winter of Toronto, ON finished second, scoring 65.809%, following a very consistent test which featured a lovely finish with a strong centerline piaffe and passage.
Gary Vander Ploeg of King City, ON, rode Degas, Jean Vander Ploeg's 12-year-old Oldenburg gelding sired by Donnerhall, to third place with a score of 65.426%.  Jacqueline Brooks of Mount Albert, ON rode her long-time partner Gran Gesto, the 16-year-old Oldenburg gelding owned by Brinc Ltd and Anne Welch, to fourth overall with 65.170%. 
In fifth place, with a score of 64.468%, was Evi Strasser of Ste Adele, QC and her 11-year-old Oldenburg gelding Action Tyme, sired by Aktuell.
Simone Williams of Navan, ON rode Wunder Ein, a 13-year-old Hanoverian gelding owned by Simore, Margaret and Robert Williams, to a sixth place finish.
The Royal Horse Show is part of the Royal Agricultural Winter Fair, which runs for ten days every November. It is considered the wrap-up event of the season for the competing disciplines. The CDI3* was presented by Dominion Regalia, a supplier of ribbons to the Royal since the Fair's inception in 1922.
Dressage competition at the Royal continues tomorrow, Thursday, November 10 during the evening show with the Grand Prix Freestyle.
The officiating judges for the CDI3* Toronto were Ingrid Macaulay (FEI 4* — VEN), Lorraine MacDonald, (FEI 4* — CAN); Joan Macartney, (FEI 4* — CAN); Marian Cunningham (FEI 4* — PER); and Hilda Gurney (FEI 4* — USA).
Photo © Cealy Tetley
Related Links
Scores 2011 CDI Toronto
Ultiem's Flemming, New Ride for Ashley Holzer