2011 ISES Conference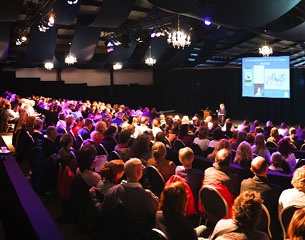 The 7th International Equitation Science Conference was being hosted by Academy Bartels, Hooge Mierde, the Netherlands from 27th – 30th October 2011. Over 4 days, more than 285 individual delegates from 20 different countries came to together in a truly inspiring atmosphere to exchange and discuss scientific findings relating to equitation science including their relevance and application in practice.
The programme was a real testament to the title of the conference: "Principles and Practices – Science at Work". Right from the start delegates were encouraged to determine for themselves if science and practice were "two worlds apart, or two sides of the same coin".
In his plenary lecture, Professor Daniel Mills, University Lincoln (UK), raised the issue of a growing demand for an ethical framework for equitation science and care for horses: "As equitation and equitation science grows, we can look forward to not only more considerate and ethical management of the horse, but the ability to develop a truly symbiotic relationship in our interactions with horses. At the very least, we owe them the benefits of our learning if we want to claim that we care for them, rather than simply care about them."
In the afternoon of the first day George de Jong, CEO Innosport (The Netherlands), illustrated how scientific innovations in sport have been instrumental in many different sports to help bring knowledge and applied sports closer together and induce a more sustainable application of science in sport. He appealed to the scientists, research institutes and businesses "to assist sporting disciplines, such as equestrianism, in pushing boundaries, thinking creatively and being open to innovative research."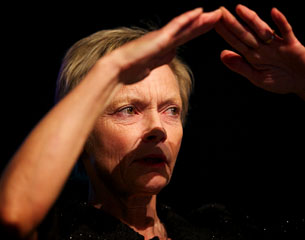 Professor Hilary Clayton, Michigan State University (USA), gave the delegates an insight into what actually happens in the horse's mouth. In her marvellous lecture she used video fluoroscopy in order to show a horse's response to different bits and the effect of rein tension. "Since the bit makes contact with sensitive structures within the horse's oral cavity, it is important to select, fit and use the bit correctly." Furthermore she showed some very interesting preliminary results of studies during which elastic side-reins were compared with those made from inflexible material.
In the last plenary lecture Professor Rene? van Weeren, Utrecht University (the Netherlands), discussed facts, figures and fiction relating to flexion in horses. In recent years, the issue of the head and neck carriage in dressage horses and presumed health and welfare consequences have been extensively discussed in recent years. Professor Rene? van Weeren showed that to date studies in this field are very limited, especially with regards to behavioural expressions and physiological parameters of the horse. A lively debate between delegates concluded that scientists need to collaborate more on this topic in order to derive at a more complete picture.
On the third day of the conference scientists were invited to meet practitioners in the riding hall. Workshops and clinics gave ample food for thought during the plenary panel discussions. During the workshops, delegates were shown how police horses are taught to cope with different types of obstacles and fireworks; how technological innovations make it possible to precisely monitor behaviour, heart rate, and tension of the horse all at the same time; and how it is possible to measure how leg pressure is applied by elite riders. In the afternoon, Rob and Robbert Ehrens demonstrated in their showjumping clinic how they train their horses step by step During her dressage clinic, Kyra Kyrklund focused on how pressure should be applied most effectively in order to get the most out of training. While working with two very talented young Dutch riders (Lotje Schoots and Angela Krooswijk) she stressed "If you keep doing what you always did, you will keep getting what you always got" implying that riders should continuously strive to improve their riding skills by pushing boundaries and achieving better and more refined results. The panel discussion at the end summarised the key findings of the day and encouraged all delegates to continuously evaluate their own findings and try and look for practical applications of scientific principles.
The ISES in 2012 is scheduled for July 18-20 in Edinburgh, if you want to know more: check the website: www.equitationscience.com
-- ISES press release
Photos © Arnd Bronkhorst
Related Links
Eurodressage Coverage of the 2011 Global Dressage Forum
2011 International Equitation Science Conference and Popular Equitation Science Day in The Netherlands
Many Interesting Discussions During 2010 ISES Conference