2011 Swedish Dressage Championships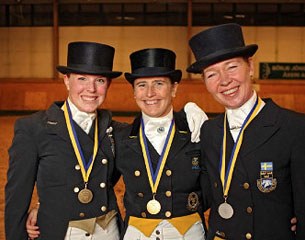 Tinne Vilhelmson-Silfven won the 2011 Swedish Grand Prix Championships held in Helsingborg, Sweden on 4 - 6 November 2011. In the absence of European kur bronze medallist Patrik Kittel, Vilhelmson and Antonia Ax:son Johnson's dark bay gelding Don Auriello faced no competition on her way to the gold medal.
Aboard the gorgeous Don Davidoff x White Star offspring Vilhelmson dominated the Grand Prix and Kur to Music scoring far ahead of all competition. In the Grand Prix she won the class with 73.915% and in the Kur to Music she reigned with 78.450% taking her to a score average of 76.183 over two rounds. It is Tinne's fifth gold medal at the Swedish nationals so far.
"The rider gets such a great feeling aboard Anton," Vilhelmson said about Don Auriello. "He's got such great rideability." For Anton's freestyle Tinne borrowed Solos Carex' music by Benny Andersson Chess as a new Kur is in the making for this rising star.
Vilhelmson also rode her third Grand Prix horse Divertimento (by Di Versace x Ferragamo) for the Grand Prix with which she slotted in third with 68.000%. The bay gelding did not compete in the Kur as only one horse per rider is allowed to move forward in the Championship. Her number one Grand Prix horse, Favourit, is being prepared for the World Cup qualifier in Stockholm after which the Tinne and her three GP
horses will fly to Florida for the World Cup qualifiers and World Dressage Masters there.
The silver medal went to Rose Mathisen aboard the licensed stallion Bocelli (by Don Schufro x Bernstein). She was second in the Grand Prix with 69.319% and second in the freestyle with 72.600%. Her average over two rounds was 70.959 which put her in silver medal position.
"It's all about planning," said Mathisen about competing a successful breeding stallion. "Next year he will not stand at stud but will just compete."
Under 25 Grand Prix rider Sofie Lexner stormed to the top of the Swedish Elite Grand Prix riders circuit and claimed her first bronze medal in the senior Grand Prix division. Riding Ulla Hakanson's Westfalian gelding Charming Boy (by Casaretto x Ehrentusch), the 25-year old Lexner was fourth in the Grand Prix (67.617%) and third in the Kur (71.150%) to finish on an average of 69.383%.
Photo © Ridsport.se
Results 2011 Swedish Dressage Championships

Round 1 - Grand Prix
1. Tinne Vilhelmson Silfvén - Don Auriello - 73.915
2. Rose Mathisen - Bocelli - 69.319
3. Tinne Vilhelmson Silfvén - Divertimento - 68.000
4. Sofie Lexner - Charming Boy - 67.617
5. Cecilia Dorselius - Lennox - 67.404
6. Charlotte Haid-Bondergaard - Lydianus - 66.085
7. Caroline Bonde Sandgaard - Deela Mae - 65.915
8. Per Sandgaard - Lomumba Havdal - 65.702
9. Anna Haag - Hohenfels - 65.617
10. Karoline Lundberg - Replay - 64.894
11. Jeanna Högberg - Liza Minelli - 64.511
12. Ulla Håkanson - Richelle - 64.128
13. Åsa Nyström - Walkman - 63.617
14. Jeanna Högberg - Kataleis Vilja - 63.404
15. Michelle Hagman - Rudi's Memory - 62.936
16. Malin Hamilton - Fleetwood - 62.766
17. Elin Aspnäs - Christo - 62.340
18. Anette Christensson - Normandie JB - 61.532
19. Liane Wachtmeister - Santana - 61.404
19. Karin Olsson - Guernica - 61.404
21. Einar Kristoffersen - Montesse - 61.234
22. Karin Öljemark - De Chenta - 60.894
23. Kristian von Krusenstierna - April 4cible - 60.170
24. AnneSophie Mannerfelt - Faeldgårdens Perwoy - 57.617
Round 2 - Grand Prix Kur to Music
1. Tinne Vilhelmson Silfvén - Don Auriello - 78.450
2. Rose Mathisen - Bocelli - 72.600
3. Michelle Hagman - Rudi's Memory - 71.150
3. Sofie Lexner - Charming Boy - 71.150
5. Charlotte Haid-Bondergaard - Lydianus - 70.900
6. Cecilia Dorselius - Lennox - 70.050
7. Anna Haag - Hohenfels - 69.700
8. Jeanna Högberg - Liza Minelli - 69.550
9. Caroline Bonde Sandgaard - Deela Mae - 69.150
10. Elin Aspnäs - Christo - 67.650
11. Ulla Håkanson - Richelle - 67.150
12. Karin Öljemark - De Chenta - 66.650
13. Karoline Lundberg - Replay - 65.550
14. Per Sandgaard -Lomumba Havdal - 65.350
15. Åsa Nyström - Walkman - 63.650
16. Karin Olsson - Guernica - 63.350
17. Liane Wachtmeister - Santana - 63.300
18. Malin Hamilton - Fleetwood - 62.800
2011 Swedish Grand Prix Championship - Overall Ranking
1. Tinne Vilhelmson - Don Auriello - 76.183
2. Rose Mathisen - Bocelli - 70.959
3. Sofie Lexner - Charming Boy - 69.383
4. Cecilia Dorselius - Lennox - 68.727
5. Charlotte Haid Bondergaard - Lydianus - 68.493
6. Anne Haag - Hohenfels - 67.659
7. Caroline Bonde Sandgaard - Deela Mae - 67.532
8. Michelle Hagman - Rudi's Memory - 67.043
9. Jeanna Hogberg - Liza Minelli - 67.030
10. Ulla Hakanson - Richelle - 65.639
11. Per Sandgaard - Lomumba Havdal - 65.526
12. Karoline Lundberg - Replay - 65.222
13. Elin Aspnas - Christo - 64.995
14. Karin Oljemark - De Chenta - 63.772
15. Asa Nystrom - Walkman - 63.633
16. Malin Hamilton - Fleetwood - 62.783
17. Karin Olssen - Guernica - 62.377
18. Liane Wachtmeister - Santana - 62.353
Related Links
Scores 2010 Swedish Grand Prix Championships
Tinne Vilhelmson Wins 2009 Swedish Grand Prix Title with Favourit
Tinne Vilhelmson Captures Second Grand Prix Title at 2004 Swedish Championships