2011 Global Dressage Forum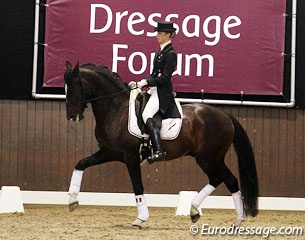 Bitless riding has attracted quite some interest over the past two years as several renowned Grand Prix riders have been doing bitless Grand Prix demonstrations (such as Uta Gräf and Alizee Froment). In The Netherlands bitless lower level classes were tested which led to the establishment of a special bitless circuit on a national level.
At the Global Dressage Forum French 24-year old Grand Prix rider Alizee Froment rode a kur to music on her Lusitano stallion Mistral du Coussoul in a bitless bridle. The horse has been trained to GP level with a bit but three months ago she decided it would be fun to do something new. Froment now also trains her 5-year old in a head collar once a week.
"I'm not against bits and bridles, but I usually ride my horses in snaffle," Froment explained. "I do all the same things in the head collar and in a snaffle and only put the double on because I'm obliged to use it in competitions."
The bridle Froment uses is custom-made and the reins are stitched to the noseband. There is no cross-under system, which would increase the pressure on the nose.
The freestyle was sweet with lovely half passes and passage. The piaffe was only executed once and lacked impulsion. Interesting to note was that the horse foamed and played with his mouth as if he was wearing a bit. He stayed nice and soft in the contact and the head was at the vertical.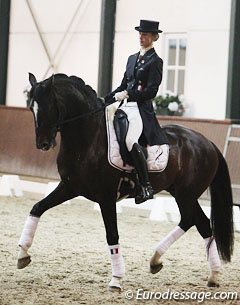 When asked if a bitless bridle is kinder and more friendly to the horse, Dr. Hilary Clayton replied, "I approach it scientifically. There is pressure on the nose. We looked at the cross-under bitless bridle and discovered there is twice as much pressure with this noseband, on a localized area. So padding the nosebands in that area is necessary. We need to look at more different types of bridles, but they are not totally benign either. It's a matter of evaluating the horse. Don't just assume you take the bit away and it's more friendly."
The demo prompted a baffling discussion whether or not Grand Prix riders should have the right to choose to ride in a snaffle or double bridle. A rule change advocating the snaffle has never been discussed within the IDTC or IDRC and the proposal has never been made to the FEI, even though the rule exists on a national level in Great Britain, for instance.
David Hunt, IDTC president IDTC, said that "in my experience there are two people who use it and it's because they can't go in double. In the snaffle they can do the nose up. There's pressure on the nose in the bitless bridle that the horses don't like. The perception of something kind or nice is not so."
Wayne Channon commented that "the bitless bridle is fun, but your aids are getting stronger and stronger if you keep on riding in it and it's no longer a pleasure. With a bit I can get it super light and then when I put the bitless bridle on, it's very good again. As an operant training method, your strength has to be greater. Some horses don't like riding in the double and they prefer to go in a snaffle."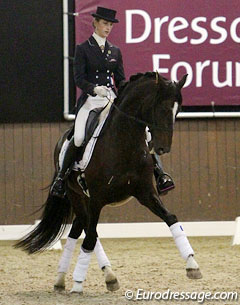 Andrew McLean added to the discussion that "how you train the bitless bridle depends on the hands at the other end. I think you can have the horse light in anything. A bit does hurt more because the negative reinforcement can be higher in an extreme case and it's safer. It's how you train it."
An audience member asked Clayton what she would recommend for horses with a small mouth in which a double bridle does not fit. The American replied, "for some horses I can't find a solution. I tried it all." David Hunt made the suggestion, "have a special bit made."
It is amazing that in this day and age, in which animal welfare is a priority and a kind image of the sport desirable, riders can not choose themselves to ride an FEI level test in a double bridle or a snaffle.
"We've not been asked that question but it's not a point of principle to us," said IDRC secretary-general Channon. "We'd gladly discuss it."
Hunt, however, said that, "riding in a double bridle is a skill in itself, part of classical dressage. We find it important that it's kept."
Next Page of the report: Gillian Higgins on Bio-Mechanics Related to Dressage Movement
Text & Photos © Astrid Appels/Eurodressage.com - No Reproduction Allowed without permission
Eurodressage Coverage of the 2011 Global Dressage Forum