2012 Olympic Games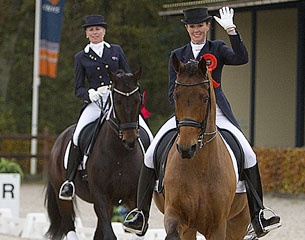 Australia and New Zealand have qualified for the team Dressage competition at the London 2012 Olympic Games as a result of their performance at the two-part regional qualifier held in Sydney (AUS) on 28 October and in Ermelo (NED) today, 2 November.
Three teams – Australia, New Zealand, and South Africa – were in competition for the two slots available to nations from the FEI Olympic Groups F (Africa and Middle East) and G (South East Asia and Oceania).
Team Australia, consisting of Rachael Sanna/Jaybee Alabaster; Chantal Wigan/Ferero; Lyndal Oatley/Potifar; and Mary Hanna/Sancette scored an average result of 69.255% (team total 207.765%) which put them in the lead at the end of the three-team competition.
Team New Zealand, which was composed of Louisa Hill/Bates Antonello; Vanessa Way/KH Arvan; Nicky Pope/Fabarchie; and Shiwon Green/Gosh finished second on an average team score of 64.922% (team total 194.767%).
Team South Africa, consisting of Zilla Pearse/Sarkozy; Nicole Smith/Victoria; Denise Hallion/Bomond; and Adriaan van Wijk/Othello 216, were a close third with an average score of 63% (team total 188.999%).
This event completes the direct team qualification process for Dressage at the 2012 Olympic Games and brings the number of teams to 11, as follows: Australia, Canada, Colombia, Denmark, Germany, Great Britain, The Netherlands, New Zealand, Spain, Sweden and the USA. The total number of teams competing in Dressage at the 2012 Olympic Games may exceed 11 since additional composite teams made up of three individuals from the same nation can qualify through the FEI Olympic Athletes Rankings.
Results Region F/G Olympic Qualifier
1. Australia - 69.255%
Lyndal Oatley - Potifar - 69.957% (Ermelo)
Mary Hanna - Sancette - 68.702 (Ermelo)
Rachael Sanna - Jaybee Alabaster - 69.106 (Sydney)
Chantal Wigan - Ferero - 62.468 (Sydney - scratch score)
2. New Zealand - 64.922%
Shiwon Green - Gosh - 61.362 (Sydney - scratch score)
Nickey Pope - Fabarchie - 63.128 (Sydney)
Louisa Hill - Antonello - 66.128 (Sydney)
Vanessa Way - KH Arvan - 65.511 (Sydney)
3. South Africa - 63.000
Zilla Pearse - Sarkozy - 61.872 (Ermelo)
Nicole Smith - Victoria - 64.808 (Ermelo)
Denise Hallion - Bomond - 60.000 (Ermelo - scratch score)
Adriaan van Wyk - Othello - 62.319 (Ermelo)
Photo © Rinaldo de Craen
Related Links
First Leg of Regional Olympic Qualifier Contested at 2011 CDI-W Sydney
Region F/G Olympic Dressage Team Qualification Event Held at 2011 Australian Championships