Hanoverian Breeding News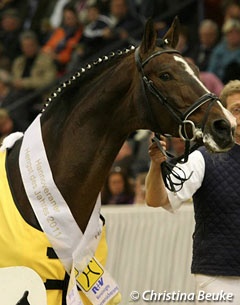 Graf Top by Graf Grannus x Calypso II is the Hanoverian Stallion of the Year 2011. The Celle state stud stallion was presented at the Hanoverian Stallion Licensing in the sold-out Niedersachsenhalle. Breeder Alfred Brönnemann, Weferlingsen, was pleased to receive the tradition-rich Wohlklang-sculpture and a remunerative cheque.
This prize is annually given by the R+V/Vereinigte Tierversichtung to honour an important Hanoverian stallion. Graf Top is the 20th stallion of the year, his sire Graf Grannus was accorded the honour in 2004.
Graf Top is a stallion with many top performance ancestors in his pedigree, and he is certainly one of the most popular Hanoverian show jumping stallions. The popular Goldfisch II-blood is represented six times in his pedigree, complemented by the positive thoroughbred influences of Der Löwe xx and Steinpilz xx. Graf Top descends from the performance line of Steingilde, and although this line is comparatively young, it has already produced many outstanding competitions horses and stallions such as Alwins Ass, For Keeps or Laptop. His dam, state premium mare Capries, is also dam of Graf Top II and of the young Stakkato's Highlight who won his stallion performance test in Neustadt/Dosse.
Graf Top was born in 1993 with Alfred Brönnemann in Weferlingsen. The former manager of the Celle National State Stud, Dr. Burchard Bade, purchased the bay youngster, and he grew up in the Lower Saxonian stallion raising station Hunnesrück. He changed to the stallion performance testing station in Adelheidsdorf in 1995 where Graf Top accomplished his stallion performance test with 130.51 points, finishing fourth among all competitors of his age-group and earning equally excellent scores for both, dressage and show jumping. He had to compete against the later successful international jumpers Stakkato and Glenfiddich. A positive licensing result was the logical consequence.
Graf Top was standing with the insemination station Hannover-Nord in Süstedt right from the very beginning of his breeding career when he was not yet exclusively bred to show jumping mares. This is the reason why Graf Top also sired some talented dressage horses. The most interesting among them is certainly Giorgio Armani who was successful at international level with Ulla Salzgeber.
Graf Top's breeding accomplishments as regards the production of jumpers are hard to top. More than one in ten of his progeny registered as competition horse is successfully competing at advanced show jumping level. The incredible number of 28 Graf Top-offspring are presently representing the Hanoverian colours for different nations in international jumper classes. Goshawk out of a dam by Akzent I is currently the one with the highest amount of winnings. He was introduced into competition sports by Jörg Kreutzmann and is now ridden by Bertrand Masneri. Goshawk is one of the 129 Verden auction horses and foals in total that Graf Top has been delivering up to now. Gretchen by Graf Top/Stakkato changed into a top show jumping stable in Great Britain as one of the top-priced jumpers of the Autumn Auction only a couple of weeks ago.
Graf Top's breeding accomplishments are as impressive. Four of his ten licensed sons are currently active in breeding. Grey Top is one of the most popular stallions at the Celle National State Stud. Graf Top is sire to 34 state premium mares. He has been ranking among the top of the breed value estimation for years with outstanding results for his jumping style (157) and potential (155). This corresponds to the breed value estimation of the German FN where the show jumping stallion achieved a result of 148 points.
Photos © Christina Beuke
Related Links
Goldfever, Hanoverian Stallion of the Year 2010
Escudo, Hanoverian Stallion of the Year 2009
De Niro, Hanoverian Stallion of the Year 2008
Stakkato, Hanoverian Stallion of the Year 2007
Lauries Crusador xx, Hanoverian Stallion of the Year 2006 
Argentinus, Hanoverian Stallion of the Year 2005
Graf Grannus, Hanoverian Stallion of the Year 2004
Brentano II, Hanoverian Stallion of the Year 2003 
Warkant, Hanoverian Stallion of the Year 2002 
Drosselklang II, Hannoverian Stallion of the Year 2001
For Pleasure, Hanoverian Stallion of the Year 2000
Eiger I, Hanoverian Stallion of the Year 1999 
Weltmeyer, Hanoverian Stallion of the Year 1998
World Cup I, Hanoverian Stallion of the Year 1997, Passed Away