FN Training Seminar
The popularity the topic of classical dressage training causes was proven once again by the huge interest for a seminar titled "Classical training for rider and horse". The seminar was conducted by Johann Riegler, former chief rider at the Spanish Riding School and was held at German Grand Prix rider Dorothee Schneider's St. Stephan stud in Framersheim, Germany. The event attracted more than 300 spectators.
The combination Johann "Hans" Riegler and Dorothee Schneider and her team seemed to be a guarantee for success. Riegler, who had been a long time member of the Spanish Riding School in Vienna and a chief rider for many years, has more recently made himself also a name outside the prestigious school in Austria's capital by giving clinics and attending seminars, especially for the Xenophon society of which he's a member.
Schneider on the other hand made her first break through on the German Grand Prix scene about 15 years ago with the legendary Trakehner stallion Van Deyk, who at age 27 is still the patriarch of her stud. Since then Dorothee Schneider has trained several horses to Grand Prix level and competed them at CDI shows with remarkable success, among them former Bundeschampion Kaiserkult, as well as Forward Looking, Diva Royal and Van the Man.
Riegler, well known for his tremendous ability to teach horses the piaffe, trains Dorothee Schneider on a regular basis for several years now, so the idea to host a seminar together was obvious.
The average-size indoor arena of the stud was almost bursting with people, when the seminar, organised by a regional section of the German FN, kicked off.
Riegler welcomed the numerous attendants with the words: "This seminar has the topic "classical dressage training." Very often we can hear from riders that they have stopped competing in dressage shows and instead now ride classical dressage. On the other hand I have never met a competition rider saying he's not riding classically. I want to quote Colonel Handler (Chief SRS) who once said that the art of classical riding is nothing more than the gymnastics of the whole musculature of a horse. So classical riding is nothing else than correct riding and this is neither dependant on a certain breed nor on wearing a costume.  To ride correctly the correct seat is of great importance."
The Correct Position as the Indispensable Basis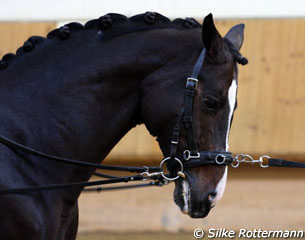 It is a tradition at the Spanish Riding School in Vienna that all members start their careers at the lunge line for at least one year to develop the absolutely correct seat which is the premise if one wants to ride effectively. Steeped in this tradition Hans Riegler took his time to elaborate and demonstrated with the help of Daniela Wais what the components are of a good seat.
Wais, Dorothee Schneider's bereiter and show groom for many years, sat on one of the stud's horses and had no problems visualising the development of the dressage seat step by step.
"The independent seat is something every rider has to achieve before thinking of any real riding," Riegler stated. "I think every beginner has the right to take lessons from very good trainers to set a good foundation and to learn to ride properly."
Riegler showed the audience how to attach the side reins correctly and pointed out that correct lunging requires doing it with a cavesson to spare the horse's sensitive mouth.
The sympathetic dark bay horse wore a cavesson Vienna style which is more padded and thicker than a French cavesson for example, let alone a Spanish one.
Unlike what one can usually see in riding schools Riegler didn't asked the rider to start without stirrups. "Also beginners can ride with stirrups, you only have to take care that they are not leaning back. When starting at the lunge it's most important that the rider finds his balance, having a certain elasticity which means swinging his back with the movements of the horse. Without having gained elasticity it's useless to continue working on the position."
After a rider has found the elastic seat the instructor can start working on the stretched position. For that Riegler asked Wais to cross the stirrups over the saddle and ride without. "Allow the legs to hang down loosely. Imagine your boots having lead weights. If they hang down heavily the knee automatically comes in the right position. To keep it there you have to bring the tip of your toes inwards a bit. We call that "to close the knee"," Riegler explained.
He remarked that it's important not to stress oneself with paying attention to fulfil all requirements of a good seat all the time. This would only result in body tension. Instead a rider should only slightly think of these requirements. "As soon as a rider tenses in the back we have to go back to the basis, which is a swinging middle posture," he said.
Working a Young Horse

After focusing on the rider at the beginningthe seminar continued with horses of different training levels. First to go was Kiss Me, a 4-year-old ridden by another one of Dorothee Schneider bereiters, Kim Arjes.
Kiss Me started in an ideal stretching position, bringing his back up and taking the bit which raised the question for how long a young horse should be ridden like that during a training session. "Of course this is very individual as horses are different, but one should not ride a horse in the stretching position until it becomes tired. When a horse snorts and relaxes it's the right moment to change from the stretching position to an appropriate elevation," said
Riegler.
The canter strike off is something a young horse has to learn after being broken in. Because there are people claiming the horse does the canter depart reacting to the inner leg and others say they do it to the outside leg he made clear that the latter is the right way. "When starting canter the horse starts with the outside hind leg so we have to teach him to react to the outside leg for a canter depart." The Austrian asked Kim Arjes to trot Kiss Me as slowly as if she wants to make a transition to walk and from this slow speed do a canter strike-off.
She repeated it several times until the black horse, which had already been highly placed in riding horse classes this season, showed a beautifully calm and prompt canter depart.
"In trot it is important to take care the horse is not just starting to trot, but that it learns to push strongly from behind when making the transition from walk to trot. We want the horse to use its hind legs."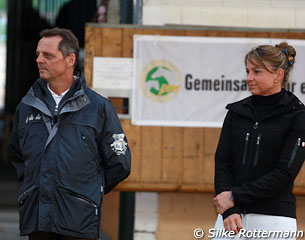 Riegler said that a 4-year-old can do the first extended trot steps, which the rider can initiate by sitting down more strongly when doing rising trot, but it has be taken care of that the steps are not getting hasty. "If the horse starts hurrying you have to correct this immediately with your seat. Sitting down firmly, but calmly while doing rising trot helps the horse to keep the rhythm."
Kiss Me looked already quite mature in his musculature and balance in all three gaits.
Riegler made clear that he doesn't mind seeing youngsters like this being competed in riding horse classes "as long as the horse has been trained with care. Often I only break horses in at that age and consider them like 3-year-old. They are not in need of being able to do something particular apart from moving naturally. Only when they are 5 or 6 I ask for more collection. A 4-year-old is not in need of being so mature, even like this one we see here, but on the other side: if it's the result of correct and horse-friendly training it's fine. "
An Impressive St. Emilion on the Way to S-Level

The lady of the house, Dorothee Schneider, was the next rider in the crowded indoor arena, riding no unknown horse, but the bronze medalist of the 2011 World Championships for 6-year-old dressage horses. St. Emilion is a black Westfalian by Sandro Hit and no doubt a high quality mount representing the modern type of dressage horse.
From the first moment on the tremendous rideability of the gelding was obvious. Having already won dressage horse classes at M- level he convinced right from the beginning that he's now on a straight way to S-Level.
St. Emilion has a good, but not a spectacular trot. However when his rider showed some metres of extension everybody could see a textbook trot regarding rhythm and engagement. Whereas the lift of the front leg has become an issue the past few years when talking about extensions, especially since the appearance of Totilas on the dressage scene, Riegler did not lose a word on it, but raised a forefinger not to focus so much on this movement in the training of a horse.
"Don't ride many trot extensions in the training. If you practise them then only for some metres and pay attention that the horse engages its hind legs properly, this is important. I am sorry I cannot exactly name the circumstances, but a Swiss study found out that one diagonal in extended trot is as strenuous on the horse's legs as 2 jumping rounds at L- level."
The former chief rider of the SRS is famous for working horses in hand and teaching them the piaffe from the ground as usual in Vienna. His unique abilities could be admired for the first time by the many spectators this
evening when he worked St. Emilion in piaffe. While Dorothee Schneider asked for some steps of piaffe Riegler supported the horse from the ground with a touching whip.
"When to begin teaching a horse piaffe? I do it when the horse is already able to work with some collection. The degree of collection is decisive and is improved by learning piaffe. All I ask for when starting piaffe work is that the horse reacts to the touch of the whip in the way it moves a leg."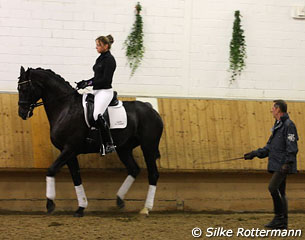 At age 6 St. Emilion is of course more advanced in his piaffe work, showing some nice steps with an already slightly lowered croup and springy hind legs. Schneider and Riegler only asked him for some steps each time before halting again and rewarding the horse. The impression was that St. Emilion would have been able to do many more steps like this, but the fact that he wasn't asked for the utmost in this highly demanding movement might be the reason for the horse's persisting joy and focus as well as calmness and content during these beginnings of piaffe.
While one often sees tense and stressed horses in piaffe, Riegler made sure that the youngsters
learning and Grand Prix horses executing ithe piaffe, never showed  a sign of unhappiness that evening in Framersheim. "Only ask for as much as the horse is able to do. Never touch the horse too strongly or practise piaffe steps too long," Riegler warned the attendants as one often sees trainers and riders ask too much of a horse too early.
While working with Schneider and St. Emilion Hans Riegler took a stand on another issue which is a frequent topic of discussion, especially because the past few years several self-proclaimed riding masters profess that the elevation of a dressage horse has to be absolute. "As horses are very individual you cannot put them in a pigeon hole. For me it's paramount that the elevation suits the body of the horse. You cannot elevate all horses to the maximum. If you take this into account it's okay for some horses if the neck comes a bit deeper."
Patience and Feeling to Handle Sensitivity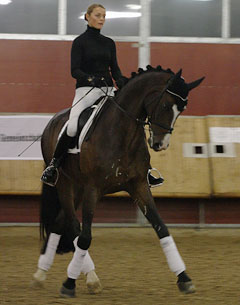 Nowadays the breeding of dressage horses undoubtedly produces a comparably greater number of outstandingly talented horses. For dressage the riders want a sensitive horse reacting quickly to the slightest of aids. Sometimes this quality is a bit pronounced in a horse and it's out of question that not everybody is able to handle such horses and bring the best out of them.
A positive and encouraging example how to succeed with a very sensitive horse is the super quality 8-year-old Rubin Action, ridden by Dorothee Schneider's master student Stella-Charlott Roth. Roth was a team gold medallist at the 2010 European Young Riders Championships and with Diva Royal she has a horse of rare quality to make the transition to Grand Prix- level.
Rubin Action is a strong second horse and it was fascinating to see how this gelding managed his hyper-sensitivity on home turf, but under unusual circumstances.
Riegler commented that, "this is a very sensitive horse and he has never seen so many people in his indoor arena before. It is a situation where it's useful to put the horse a bit deeper so it's focusing. I always call it "mental collection". It means that the rider calms down the horse by his seat and with his hand."
It didn't take long before the highly elegant bay gelding was with his rider and both could demonstrate lateral work. "If you practise trot half passes it's useful to do an exaggerated end. It's useful later on when you have to do zig zag half passes. Often we see horses having problems in the change of direction, especially in the canter. You can avoid these problems by exercising the exaggerated end."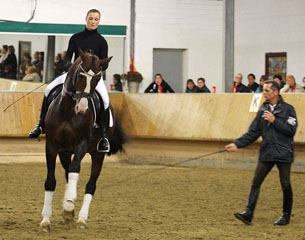 Always stressing the rider's position Riegler mentioned something rarely taken care of today: to sit in the right direction in the half pass. "Many riders push too hard with the outside leg which brings them in the wrong direction." Sitting in the wrong direction in a half pass has the consequence of not being able to bend the horse properly. It's not sufficient that a horse is only going sideways."
After the right execution of half passes Roth and Rubin Action worked on riding working pirouettes to build up towards small canter pirouettes later on. "We do working pirouettes to improve the canter. It's about gymnastics in the training. A jumping rider also doesn't jump a 2-metre wall each dail." First aspect to take care of: "Don't prepare a pirouette by riding travers-like. Always take care that the hind legs jump in the direction of the front legs because otherwise you will not be able to make the pirouette smaller later on."
Stella-Charlott Roth demonstrated some almost perfect working pirouettes with the horse, putting Riegler's advice into action while Rubin Action sat ideally on his hind legs and maintained a steady rhythm. Only once the handsome gelding started to double beat behind, which Riegler noticed immediately. "If you lay out a pirouette too small the horse will start doing this and the rhythm gets lost."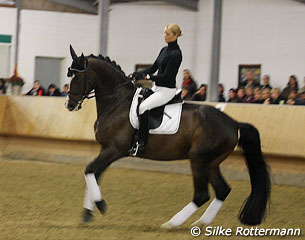 Riegler made clear that he doesn't see his role as a trainer as a kind of field marshal giving commands. "I don't give orders. The rider has to feel by himself when something is possible, I can only give some support."
The third part of this demo was the piaffe work in the way shown earlier by St. Emilion: with the rider in the saddle and Riegler helping from the ground. While the man with the charming Austrian accent knotted the tail of Rubin Action he told the audience that at the beginning of the piaffe work in hand this horse had been extremely difficult. "The horse was very electric. I wasn't even allowed to touch him. But how to teach him a piaffe? We need to touch the horse to give it signals, so we persisted and tried again and again to touch him. One day he was ready to accept it because he trusted me."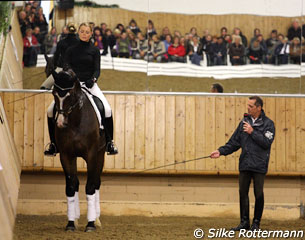 The leggy horse not only showed a very good piaffe with lowered hind legs, but also remained calm and confident. Even the spontaneous applause which broke out after some thrilling steps of piaffe didn't upset him. Instead the horse stood still and watched the audience as if  aware that they honoured him. "Yes, do clap loudly. This horse needs to get used to it so he isn't surprised one day at Aachen," Riegler joked.
Stella-Charlott Roth finished the session allowing her horse to move in a comfortable stretching position. "To finish like this is not only very good for the horse's back as it loosens the muscles, but it's also good for the mental balance. Often you can start like this on the next day. So it's a reward for the horse after having worked well. Of course it's also a good possibility to put a horse back in his stall after it has executed a movement very well."
The Jewel in the Crown: Diva Royal as the Apex
After Vanessa Kellermann, formerly one of Germany's best pony riders, had shown St. Stephan's licensed Trakehner stallion Polarzauber, a seasoned 15-year-old with wins up to Inter I-level and impressive canter pirouette work, a horse true to its name entered the indoor arena: Diva Royal.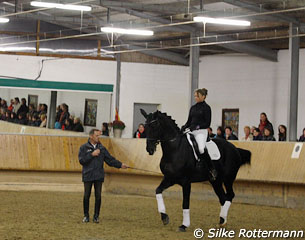 The black mare is one of Germany's rising Grand Prix stars. A European team gold medallist in 2010, her great talent was once and for all revealed when she entered the highest of competition levels, the Grand Prix in the Under 25 division. In 2011, her first season, the Hanoverian mare by Don Frederico was a bombshell.
With her owner Stella- Charlott Roth the only 9-year-old managed to qualify for the Piaff Förderpreis final in Stuttgart next month. Ridden by her trainer Dorothee Schneider she won a qualification to the Tesch Inkasso-Cup, Germany's renowned series for upcoming Grand Prix horses as well as the finals in Münster.
It was easy to see that in her own indoor arena she is the apex of what classical dressage training can do. Like all the other horses before her, she was ridden with a simple snaffle. Diva Royal moved naturally in the most difficult Grand Prix movements which is rarely
to be seen. The cadence and the metronome-like rhythm she showed in the piaffe and passage were simply breathtaking.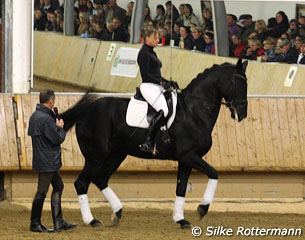 Her ability to sit on her hind legs or to work extremely engaged from behind throughout all the movements are the proof of how extremely correct this horse hads been trained.
Diva Royal might not be the most beautiful horse by nature, but the happiness and eagerness in her work produced a kind of inner beauty which, along with her undeniable abilities, created a dressage horse that only can be produced through classical training.
"All horses you have seen this evening were ridden with a snaffle-bit to show that they are submissive", Riegler said finishing his 3-hour  seminar in which he gave insight in his work stamped by the most classical institutions in Europe. Riegler has trained under the tutelage of some of the SRS's greatest oberbereiters and his knowledge showed.
None of the horses taking part showed any sign of stress or discontent. All were relaxed and happy in their work. They were the best proof that classical dressage training is still the horse friendliest way and that the marriage of "classical" and "sport" is not only possible, but is a successful symbiosis even in our times.
Report and photos by Silke Rottermann for Eurodressage.com
Related Links
Servant or King, The Future of the 21st Century Dressage Horse
Diversity and Lightness, Essential for the Development of the Horse
Common Sense Prevails at 2010 International Dressage Forum