2011 Pan American Games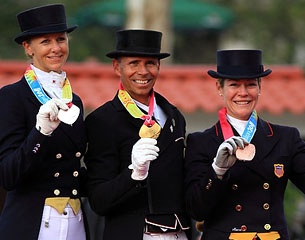 FEI press release -- American Dressage riders swept all before them when returning a record-breaking fourth consecutive team victory and filling all the steps of the individual medal podium at the 2011 Pan-American Games in Guadalajara, Mexico.  On Sunday they cruised confidently into pole position in the team event ahead of the silver medallists from Canada while Colombia claimed the bronze.
  And yesterday Steffen Peters steered Weltino's Magic to individual gold ahead of Heather Blitz with Paragon in silver and Marisa Festerling and Big Tyme in bronze.
It was a convincing performance at all levels, and anchorman Peters was the linchpin of the American side.  But, as he pointed out in the aftermath of the team success, he was under considerably less pressure than usual due to the highly-competitive performances of his team-mates.  "Over the past few years I have always had to carry a lot of weight on my shoulders as the very last rider, but the team did an awesome job - every single horse, every single rider" he pointed out.  The silver medallists from Canada and bronze medallists from Colombia had plenty of reason to celebrate too, as their second and third-place finishes have provided them with qualifying spots for the 2012 Olympic Games in London.
TEAM MEDALS
A total of 12 nations battled it out for the team medals, and the combined US score of 75.754 gave them a clear five-point victory.  Peters and Weltino's Magic produced the only score over 80% - his 80.132 setting a new Pan-American Games record - and he was awarded the leading mark by all five members of the Ground Jury - Great Britain's Stephen Clarke, Raphael Saleh from France, Canada's Cara Witham, Argentina's Gabriel Armando and President, Lilo Fore, from the USA.
Blitz's mark of 75.105 with Paragon was a personal best and, supported by 72.026 from Marisa Festerling riding Big Tyme who racked up 72.026, it was mission accomplished.  US pathfinder, Cesar Parra, produced a score of 69.526 that was good enough for 10th place individually, and all the US riders qualified amongst the top-25 who went into the first of the two individual medal-deciders on Monday.
Canada's Thomas Dvorak steered Viva's Salieri W to a mark of 71.711 for fourth place individually in the team event and would continue to impress, as would Colombia's Canstanza Jaramillo, individually third in the team competition riding the expressive 11-year-old mare Wakana which she purchased from her trainer, Germany's Ulla Salzgeber, earlier this year.
INDIVIDUAL TITLE
Peters, Blitz and Festerling threw down the gauntlet when topping the results board in Monday's first leg of the battle for the individual medals.   This time Weltino's Magic scored 78.079 despite a mistake early in the Intermediaire 1 test.  "I didn't think it was quite as good as the Prix St Georges (the team test)", Peters admitted.  "We had one little fumble in the first extension, I just pushed him a little too hard, but the rest was really clean. He had really, really good pirouettes again, and the walk was as good as yesterday.  So one little fumble, but overall I'm very happy!" he pointed out.
This left him at the head of affairs going into yesterday's (Wednesday) Freestyle.  The combined average of both tests would decide the result.  "The race is getting really, really tight which is great for the sport", he said.  "Magic has a really good Freestyle and so far every time it has worked out.  The pressure is on for Wednesday, and cruising through it won't do it.  I am going to have to take some risk and get on the gas pedal", he added.
And his fellow-Americans ensured that Peters certainly wasn't going to be in a position to cruise, Blitz and Paragon producing a fabulous Freestyle for a combined mark of 81.917 to really pile on the pressure.  Only an eight-year-old, and clearly full of potential, Paragon wowed the crowd with effortless movement and spectacular paces.
"I hit all the parts of the music, that's always a great feeling," said Blitz. "That's just so satisfying. Paragon went in, and when I first picked him up, because I walk first, when I picked him up for the canter, there was just a glimpse of him saying, 'I don't know about this.' But then he erased that and then the rest of the test he was completely on autopilot, yet he was still listening to me. He felt so smooth and expressive, but he was so listening.
The determined Marisa Festerling had the ride of her life on Big Tyme. "It was awesome, the atmosphere was very, very electric," said Festerling. "But 'Frankie' kept it together in there. I was thrilled. He has come out here every single day and given me more and more. And in this kind of competition you couldn't ask for more", she said after putting a final score of 77.545 on the board.
DIG DEEP
Peters had to dig deep into his reserves of experience to finish ahead of target-setter Blitz, but the consummate professional squeezed every possible mark out of the nine-year-old Westphalian gelding Weltino's Magic to clinch it with a final total of 82.890.
"What an amazing day and an amazing competition," said the 1996 Olympic team bronze medallist. "I still have to think about the moment that I came out of the arena and when the scores were announced it probably took 30 seconds, but it seemed like three hours. It is a very exciting day, congratulations to my team-mates. The big score that Heather pulled in – I don't think I've ever had that much pressure going into the arena!" he added.
Thomas Dvorak (Viva's Salieri W) finished just out of the medals in fourth place on a score of 75.190 ahead of Canadian team-mate Tina Irwin (Winston) in fifth while Mexico's Bernadette Pujals (Rolex Iusa) slotted into sixth.
All the riders at the press conference were full of praise for the impressive facilities at the Club Hípica, venue for the Pan-American Games equestrian events, congratulating the organisers on both the venue itself and the organisation behind it.
Facts and Figures:
12 nations competed in the team competition.
This was a record-breaking fourth consecutive gold medal-winning performance from an American team.
2 countries qualified for the 2012 Olympic Games in London - Canada and Colombia.  The USA was already qualified.
The Ground Jury panel of judges was - At E, Stephen Clarke (GBR), At H, Cara Witham (CAN), At C, Lilo Fore (USA) President, At M, Raphael Saleh (FRA) and at B Gabriel Armando (ARG).
A total of 47 horse-and-rider combinations competed for the individual medals.
The USA already headed the medal-table for most wins in both the Team and Individual categories.  The 2011 results brings their tally to 7 team and 8 individual titles.
by Louise Parkes
Eurodressage Coverage of the 2011 Pan American Games