2011 Pan American Games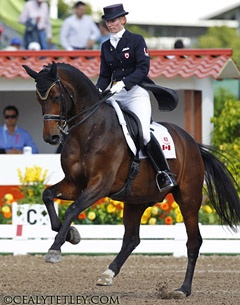 Canadian Dressage Team members Tom Dvorak of Hillsburgh, ON, Tina Irwin of Stouffville, ON, and Crystal Kroetch of Calgary, AB, placed fourth, fifth and seventh respectively in the Individual Dressage Final held Wednesday, October 19, at the XVI Pan American Games in Guadalajara, Mexico.
With American competitors sweeping all three individual medals, Dvorak, Irwin and Kroetch challenged the podium from a starting field of 47 competitors representing 14 nations.
Canada's youngest team member, 30-year-old Irwin, was the first to enter the arena at the Guadalajara Country Club.  Riding Winston, a 14-year-old Dutch Warmblood gelding owned by Mary Ellen Horgan, Irwin performed to a medley of popular songs from the 80's, including 'What a Feeling' from Flashdance and 'Life Is Life' by Noah and the Whale.  Winston showed his maturity and consistency with a flawless and expressive performance that earned a score of 77.225% for Irwin.
"Winston was amazing, and I was totally thrilled," said Irwin, who was making her major games debut.  "It was my personal best score.  We definitely peaked at the right time.  It was also fantastic to ride to my music, which was produced by long-time sponsors and supporters Lewis Manné and Wendy Watson of Zap Productions."
Combined with her Intermediaire I score of 70.842% from the first half of the individual competition on Monday, Irwin's average score of 74.034% moved her up five places, from tenth after the Intermediaire I, to fifth overall.
Next in for Canada was Kroetch, 54, riding her own 10-year-old Hannoverian gelding Lymrix.  Kroetch's difficult choreography included a canter pirouette immediately following the initial halt, and a serpentine of two tempi changes.  Her score of 76.325% placed her sixth in the Freestyle.  Having finished ninth in the Intermediaire I two days earlier with a score of 71%, Kroetch improved on her ultimate placing, with an average score from the two tests of 73.663%, and seventh place overall.
"It wasn't my cleanest test, but my horse had moments of brilliance and I was thrilled with my score," said Kroetch of her freestyle performance.
Dvorak, 46, was the second last rider in the arena, competing immediately after the eventual silver medalist, Heather Blitz of the United States on Paragon, and the gold medalist Steffen Peters, also of the United States, on Weltino's Magic.  Dvorak rode Viva's Salieri, a 10-year-old Canadian-bred Hannoverian stallion, to a dynamic Spanish guitar themed program that included four canter pirouettes and tempi changes on curved lines for added difficulty.  An impressive score of 77.300% placed Dvorak fourth in the Freestyle.
Combined with his fourth place result of 73.079% in the Intermediaire I, Dvorak finished fourth overall with an average score of 75.190%.  Even more impressive, Viva's Salieri is a Canadian-bred horse, having been bred by owners Augustin and Christine Walch of W. Charlot Farms in Stratford, ON.
"I fought as hard as I could and I didn't leave anything behind," said Dvorak when the results were announced, with American Marisa Festerling riding Big Tyme edging out Dvorak for the individual bronze medal.
For Dvorak, the results in Guadalajara were reminiscent of the 2007 Pan American Games in Rio de Janeiro, Brazil, where he also placed fourth individually, having also claimed a team silver medal.
"I'm still pleased to be fourth for a second time," he said.  "We gave it our best, and it was a personal best score for us in the Freestyle."
The Canadian riders had high praise for the support they received from Team Chef d'Equipe Gina Smith of Brockville, ON, and Team Technical Leader Markus Gribbe of Germany.
"Markus has been fabulous and Gina is like having my mom along; she's so organized and calm," said Kroetch.
"It's great to be a part of our team's wonderful results and to be able to help," said Smith, who was a member of Canada's bronze medal team at the 1988 Seoul Olympics.
Following the Prix St. Georges test held October 16, Canada won the team silver medal and, in doing so, achieved their goal of qualifying a team for the 2012 London Olympics.  Unfortunately, under Pan American Games rules, only three riders per nation may advance to the Individual Final.  Although the fourth member of the Canadian Dressage Team, 46-year-old Roberta Byng-Morris of Godmanchester, QC, was unable to compete on the final day, she placed 16th individually in her major games debut with her 12-year-old Hannoverian gelding Reiki Tyme.
The Canadian Dressage Team was assisted at the Pan American Games by Team Veterinarian Dr. Alan Manning.  The Canadian Equestrian Team is supported at the Pan American Games by Team Leader Kerri McGregor of Newmarket, ON, and Assistant Team Leader Tina Collins of Loretto, ON.
Photos © Cealy Tetley
Eurodressage Coverage of the 2011 Pan American Games