Trakehner Breeding News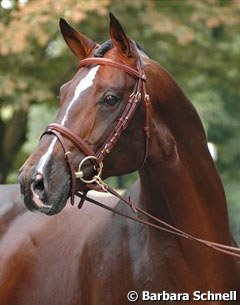 The 16 year old elite stallion Münchhausen is the Trakehner Stallion of 2011. The elegant and competitive Münchhausen will be honoured as Stallion of the Year by the Trakehner Association at the 49th Trakehner Stallion Market from October 20th-23rd in Neumünster's Holstenhalle.
The stallion, born at his breeder Ursula Schaefer's farm in Westerstede and part of the famous stables of Stud Wiesenhof since years, has nothing in common with the famous Baron Münchhausen' story – in short, Münchhausen is a thoroughly honest horse. He is a son of Hohenstein and his dam is Mohnblüte, by Königsstein. At the early age of 2-and-a-half Münchhausen had already captured the winning stallion title at the Neumünster approvals and shortly afterwards was the undisputed leader of the dressage index at the stallion performance testing in Neustadt-Dosse. Münchhausen was a multiple finalist at the German Federal Championships for Young Horses in Warendorf and even won the silver medal at the World Championships for Young Horses in Verden.
The sport was in the forefront of his carrier: Münchhausen captured the sport in classical form and one of his career highlights was participating in the European Dressage Championships 2005 in Hagen a.T.W.. At that time his rider Fie Skarsoe was in the saddle as a member of the Danish team and the combination celebrated many placings and wins in Grand Prix competitions at further events.
In the meantime Münchhausen is the sire of numerous offspring, including many winning and state premium mares and successful competition horses. Münchhausen is the sire of seven approved stallions and has already left a noticeable mark on Trakehner breeding. Beyond that, Münchhausen is approved in Baden-Württemberg, Rhine, Westphalia. According to the German National Federation's (FN) breeding list,
Münchhausen belongs to the best dressage inheritors throughout Germany. His progeny stand out with their elegant and sporty appearance, their good character and quality movement. That's what he has passed along to his children so they can pass it along to their children.
Enough reason for the Trakehner Association to distinguish the Hohenstein son with the title Stallion of the Year during the 49th Trakehner Stallion Market.
Photo © Barbara Schnell
Related Links
Eurodressage Photo Database: Munchhausen