2011 CDI-W Stuttgart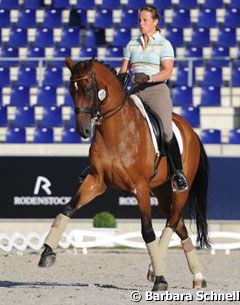 While her long-time rival Anky van Grunsven is contemplating taking her 17-year old Salinero to the Olympic Games next year, German Isabell Werth has decided to grant her 17-year old Olympic gold medal winning Satchmo a well-earned retirement. A special retirement ceremony will be hosted at the 2011 CDI Stuttgart on 16-20 November.
"For a while I've been thinking about the right timing and place and I think the Stuttgart German Masters are the perfect choice," said Werth about Satchmo's retirement. "It's a big pity, but there is a generation change taking place in my barn," Werth added at a press conference in Stuttgart on 12 October.
"Like always Satchmo is in top shape and still ready to go, but I don't want to wait for a moment when that no longer is," she explained. "This extraordinary horse hasn't deserved that. I want the equestrian worl to remember him like he was at his hay days: a great horse, sometimes a bit naughty but always elastic and full of power."
After retiring Gigolo FRH in 2000, Satchmo became Werth's new medal snatcher. ""Satchmo taught me to deal with the most difficult situations in life," she praised her bay Hanoverian by Sao Paulo x Legat.  They won team and individual test gold at the 2006 World Equestrian Games, team silver and individual gold at the 2007 European Championship and team gold and individual silver at the 2008 Olympic Games. Werth won the Stuttgart German Masters with Satchmo three times and rode a world record score there in 2008.
"After the retirement ceremony he will go back home to Rheinberg with me," said Werth. "I'll continue to ride him but not at high show level. Satchie already goes in the field daily but in the future he'll spend longer days in the pasture, just what a retired horse should do."
The most successful dressage rider of all times explained that she now wants to focus on her youngsters El Santo and Don Johnson for
the 2012 Olympic campaign.
Photo © Barbara Schnell
Related Links
Eurodressage Photo Database: Satchmo
An outstanding Satchmo Delights a Full House at the 2010 CDI Stuttgart
Disappointing Silver for Isabell Werth at the 2008 Olympic Games
Isabell Werth Leads Germany to Team Gold at 2008 Olympics
Werth Marches to Freestyle Victory at the 2008 CDIO Aachen
Satchmo Worth the Wait at the 2006 World Equestrian Games