Dutch Dressage News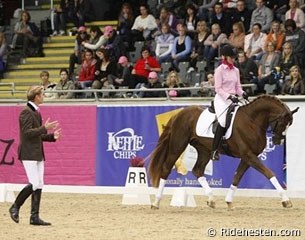 World champion Edward Gal is in Oslo, Norway, at the moment for an international dressage competition and for teaching a clinic at the event. There was a big surprise in store for him as he was given the ride on a 3-year old stallion after the clinic.
On Tuesday evening 11 October Edward taught a clinic in which Norwegian rider Silkje Bakken presented the 3-year old stallion Tailormade Ralph Lauren (by Skovens Rafael x A-Dur). The long legged chestnut stood out with his three basic gaits and incredible rideability.
At the end of the clinic Edward was asked which of the horses he would like to take home and the Dutchman replied: "the young one was a good horse. I like 3-year olds and having the horse from the start."
Immediately afterwards Tejr Pedersen of Tailormade Horses came into the arena and told Gal that he could take home Ralph Lauren and continue the horse's training.
"I don't know what to say. This doesn't happen very often," said a baffled Gal. "I'd like to thank the owner for the opportunity to work with this horse."
Gal mounted Ralph Lauren to test-ride him at the show in the big arena. "It's all about control," said Gal, "and the trot is already fantastic."
Source: Ridehesten.com
Related Links
Scores 2011 CDI Oslo
Skovens Rafael, Price Highlight of the 2007 Danish Warmblood Stallion Auction