2011 Spanish Dressage Championships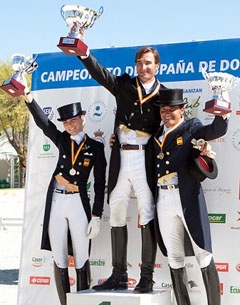 Jose Daniel Martin Dockx and Kimberly van Kampen's PRE stallion Grandioso won the 2011 Spanish Grand Prix Dressage Championships held at Villafranca near Madrid, Spain, on 7 - 9 October 2011. Martin-Dockx, who is trained by Spanish team coach Jan Bemelmans, captured his first Grand Prix title in his career. 
In the absence of the entire Spanish Euro-team, the B-team riders were eager to step into the spotlight. They took centre stage at the national championships held at the SEK equestrian centre in Madrid with Martin Dockx pipping Carmen Naesgaard for the gold.
Martin-Dockx has only been riding Hampton Green Farm's 12-year old PRE stallion Grandioso (by Adelante x Sevillano IX x Nevado IX) since February 2011, taking over the ride from a recuperating Courtney King-Dye. The new Spanish partnership has been growing steadily and at the national championships they finished second in the Grand Prix (68,255%) and won the Special (68,792%) and freestyle (74,300%) taking the overall lead with 211,347% points.
"I am thrilled and, honestly, also very surprised at this honor," Grandioso's owner Kim van Kampen told Eurodressage. "Grandioso is only in his first year at Grand Prix and his rider and I did not have any expectations for him this year beyond becoming more experienced at the level. I am very grateful to Jan Bemelmans for his "plan" for the horse, which is working better than we could have imagined. Also, I want to thank Courtney King-Dye for her years of investment in GR, Lendon Gray for two essential clinics with Daniel this summer to help him with test riding, and of course my deepest gratitude to Daniel for taking on the horse--and the pressure--and doing an excellent work."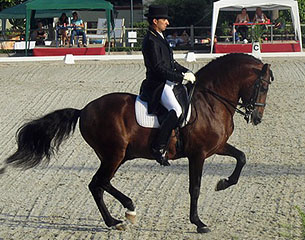 Carmen Naesgaard and her 15-year old Hanoverian Ciowa (by Chenook) were on solid form with a first place in the Grand Prix (68,425%) and two seconds in the Special (67,458%) and Kur (72,100%) to total 207,983% points and earn silver. The charming young girl is trained by Isidro Maldanado and was last year's reserve champion as well.
Jose Antonio Garcia Mena and his second Grand Prix horse Guardadamas (by Atiza) finished in bronze medal position. The 11-year old Andalusian scored three times the third highest score: 66,468% in the Grand Prix, 66,792% in the Special and 71,050% in the Kur to finish on 204,310% points.
The 2011 Spanish Dressage Championships also included classes at junior, young riders level and a small tour division leading up next week's 2011 Spanish Youth Riders Championships. After winning the 6-year old Spanish young horse Championships with Alcaide, Claudio Castilla Ruiz continued his string of success at small tour level with Latimer, an imposing black Hanoverian stallion by Latimer. With 68% scores in the Prix St Georges and Intermediaire I and a 73,250% in the Inter I Kur, Castilla Ruiz left all competition behind him to win another gold medal. Jose Antonio Garcia Mena and Juan Matute's Hanoverian gelding Don Diego (by Don Frederico) were in for the silver.
At Young Riders level Adrian Lopez Diaz Pavon and the 9-year old Hanoverian Groszor Z (by Grosso Z out of Ariyola) were undefeated in all three rounds of his age division. The pair scored 66% marks in the first two classes and 70.167% in the kur to fend off Laura Beatriz Reija Belart on Recuerdo (by Conspirado). Junior rider Andreu Busutil Canovas and his sympathetic bay Oldenburg Don Luka (by Don Larino) bested the junior division with solid scores: 68.018%, 70.000% and 71.083%. He referred Eva Maria Calvache on Amazing Grace to the silver medal position.
Photo © Top Iberian
Related Links
Scores 2011 Spanish Dressage Championships
Firmamento, Manchego and Alcaide Win 2011 Spanish Young Horse Championships
Beatriz Ferrer-Salat Recaptures National Title at 2010 Spanish Championships