2011 Pan American Games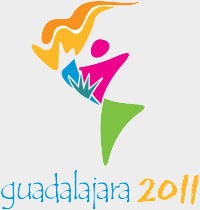 A record number of horse-and-rider combinations will compete in the equestrian events at the 16th Pan-American Games which kick off in Guadalajara, Mexico in just over a weeks' time, on Sunday 16 October.  This is the world's largest multi-sport event apart from the summer Olympics, and takes place on a four-year cycle leading up to each Olympic fixture.
Held in accordance with the Olympic Charter and Rules, the Pan-Americans provide Olympic qualification opportunities for athletes in FEI geographical regions D and E - North America and Central/South America.   More than 5,000 athletes will take part in 46 different sports and almost 400 events during the two weeks of world-class competition and, in the three equestrian disciplines of Jumping, Dressage and Eventing, a total of 157 partnerships are expected to line out.  The 2011 fixture brings together athletes from 42 countries.
ORIGINS
The first Pan-American Games took place in Buenos Aires, Argentina in 1951, but its origins date back more than 20 years earlier. During an Olympic Congress that coincided with the 1924 Olympic Games in Paris, France, the members of the International Olympic Committees of Cuba, Guatemala and Mexico proposed the creation of a regional sports event in which Central American countries would participate. This became a reality two years later when Mexico City hosted the first Central American Games.
Then, at the 1932 Olympics in Los Angeles, USA, some of the Latin American delegates proposed the staging of regional Games for the Americas, and this led to the first meeting of the Pan American Sports Congress in Buenos Aires in August 1940.  Plans were made for the first Pan-American Games in 1942, but World War II got in the way of that.  However the plans were revived at a congress held in London during the 1948 Olympic Games and, at last, the Pan-Americans became a reality when, in February 1951, more than 2,500 athletes from 22 countries descended on Buenos Aires for the inaugural event.
The organisation that oversees the games is the Pan American Sports Organisation (PASO). Currently, PASO is made up of 42 nations from South, Central, and North America as well as the Caribbean. The official languages of the Games are English and Spanish.
CONSISTENTLY DOMINATED
The record-books show that American riders have consistently dominated the equestrian medal podiums.  They didn't turn up for the inaugural Games in 1951 however, at which only Chile, Argentina, Brazil and Mexico were represented in the equestrian events.  In stark contrast, riders from a total of 21 nations will compete in the three Olympic disciplines of Jumping, Dressage and Eventing this time around when the flags of Argentina, Bermuda, Bolivia, Brazil, Canada, Cayman Islands, Chile, Columbia, Costa Rica, Dominican Republic, Ecuador, El Salvador, Guatemala, Honduras, Mexico, Panama, Peru, Puerto Rico, Uruguay, USA and Venezuela will all by flying high.
The Brazilians have a strong record in Jumping, having won team gold on five occasions, just one less than the dominant Americans, while the Canadians share the honours with the USA for most wins of individual Jumping gold - they have each claimed it five times.  In Dressage, US riders have secured team gold on six occasions, and they are the defending champions following their latest victory in 2007, while they also have seven individual Dressage titles under their belt.  They are defending champions in Eventing having brought their tally of Team wins to six and Individual wins to eight when, in 2007, US team members Karen O'Connor (Theodore O'Connor), Philip Dutton (Truluck) and Gina Miles (McKinlaigh) were joined by 2003 individual title-holder Darren Chiachia in making a clean sweep at the top of the Individual medal table.
THIS TIME AROUND
A total of 15 nations will be represented in Dressage this time around while 12 countries are fielding teams.  Ten of the 13 nations entered in Eventing are sending teams and in Jumping there is a massive entry of 18 countries and 12 teams.  With Olympic qualifying spots up for grabs for both teams and individuals, the competition is going to be fierce, but none more so than in the Jumping Team contest as the defending Olympic champions from the USA have, so far, failed to earn a place for London 2012 and will therefore be coming out with all guns blazing when the action gets underway in Guadalajara on 24 October
Two venues will be in operation - the Guadalajara Country Club where Dressage and Jumping will be held, and the Santa Sofia Country Club which is the location for Eventing and which successfully staged the preparatory event "On the Road to Guadalajara" last year.
Technical Delegate for the Jumping events at the 2011 Pan-American Games is Venezuela's Leopoldo Palacios, while Brazil's Andre Paro is TD for Eventing and Freddy Leyman from Belgium is TD for Dressage.
Olympic and Eventing Director at the FEI, Catrin Norinder, is looking forward to the two-week extravaganza.  "Equestrian activity has developed dramatically in the region over recent years as the number of entries for the 2011 Pan-American Games clearly demonstrates.  I believe we can look forward to two weeks of tremendous sport!" shes says.
For further information on the 2011 Pan-American Games in Guadalajara, Mexico visit website http://www.guadalajara2011.org.mx/ENG/01_inicio/
by Louise Parkes
Eurodressage Coverage of the 2011 Pan Am Games