British Dressage News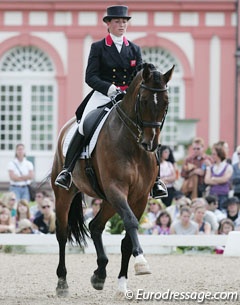 Barely two weeks into his retirement, former British team horse Two Sox sustained a field accident on Saturday 1 October 2011, shattering his pastern, and unfortunately had to be put down due to the severity of his injury.
"It is a complete mystery how this happened as he appeared to be settling and thoroughly enjoying his new routine of hacking and turnout," Geraldine Eilberg told Eurodressage. "The paddock was small, level and in view of our outdoor arena so we could keep an eye on him and he seemed perfectly relaxed in the October sunshine.
The rising 18-year old Westfalian gelding by Ehrentusch was officially retired from his competition career at the 2011 British Dressage Championships at Stoneleigh park mid September. Maria Eilberg steered him through his final freestyle and in a moving and emotional final lap of honour received a standing ovation from the crowds.
"We are all devastated. It is like losing a member of the family. He was such a special horse, one of the best," Geri Eilberg added. "It's been such a shock, and so sad especially for Maria."
Maria and Two Sox were the British team alternates for the 2006 World Equestrian Games and 2008 Olympic Games. They were members of the silver medal winning team at the 2009 European Dressage Championships and they won team silver at the 2010 World Equestrian Games.
"He has been with us for almost 15 years," Maria Eilberg told Eurodressage upon "Ed's" retirement. "He has always shown talent for the collected work which helped him to break through at Grand Prix but his main attribute is his temperament. He is so genuine and trainable and always wanting to work. We have learned together and he has taught me everything I know!"
Photo © Astrid Appels
Related Links
Two Sox Retired from Competition
Maria Eilberg, 2008 British Dressage Champion