2011 Irish Dressage Championships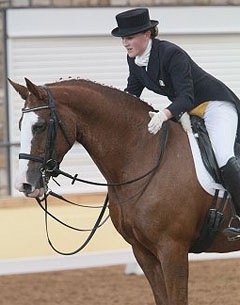 County Antrim's Laragh Hamilton had plenty to smile about last weekend, taking the title of National Champion for the third time in six years at the Cavan festival where the 2011 Irish Dressage Championships were being held. The 28-year-old guided her Rakish Paddy-sired mare Claggan Roxy Music to victory in the Grand Prix with a score of 64.468%, ahead of Yvette Truesdale and Has to Be Fun.
Some 550 tests were ridden by 200 riders over three days of competition, making this year's Irish Championships one of the most successful in the history of the event.
Speaking of the turnout for, what is the highlight of Dressage Ireland's calendar, chairman Robert McCormick quipped: "There is no recession in Dressage Ireland. Our numbers are up and it's fantastic to see such a huge turnout."
It was also a weekend to remember for Anne-Marie Dunphy, who made it a clean sweep in the Small Tour, winning the Prix St George, the Intermediaire 1 and the Prix St George Freestyle on her Dutch-bred Urbanus, pipping Charlotte Walshe on Four Socks. The Kilkenny-based rider credits a year of light competing, while focussing on training, with the horse's success.
"He came to the Championships fresh and it paid off, now we will spend the winter training towards Grand Prix," she said of the gelding.
She also had plenty of praise for the size and scope of this year's event. "Our National Championships is the most important show on the Irish Dressage calendar so it's great to do well here. This was our biggest National Championships to date and it is very exciting to see how the sport is growing in Ireland."
The advanced title was won by three-time Olympian Heike Holstein, with her student Marguerite McSweeney taking second on Salancio, who she describes as 'the perfect partner.'
"It was a hot class and as it is his first year at this level, I felt his self carriage and stamina had improved with the help of my trainer Heike Holstein and national trainer Ferdi Elberg," McSweeney said.
"He is a gentleman: calm, charming, always tries his best and is admired by all the ladies. He never gets cranky and I must admit is the perfect partner!"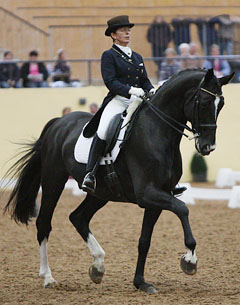 Northern Ireland's Yvette Truesdale celebrated her birthday with an Intermediaire II win on Has to be Fun who has just returned to the circuit after a serious illness.
"I'm delighted with Fun after almost two years out of competition due to him being very ill. He tried so hard for me and the results are a bonus on top of him being in good health and enjoying his work," she said.
Fresh back from a successful trip to Hickstead, Sorrell Klatzko and Ruth Chadwick also had plenty to celebrate. Klatzko took the Medium and Advanced Medium titles on her own Highlight, who just one year previously was struck with a life threatening illness that saw her off work for months. The mare's return to superb form to take the two championships was particularly sweet for Klatzko, who believed for a time that she wouldn't pull through.
Wicklow-based Ruth Chadwick and VSH Absolute Turbo added the Elementary Category 2 title to the Novice Win she picked up at the Hickstead Masters, to cap off an impressive season, while Kirsty Stuart and General Gist took the Category One honours.
Sonya McCormack and Maureen Dwyer topped the Preliminary Category One and Two leader boards respectively, while Megan McGrath and Rory O'Hare triumphed in their Novice Categories.
From what was very much a niche sport up until recent years, Irish Dressage has gone from strength to strength. No clearer was this seen than in the comments from some of Europe's best judges. Some six list one judges were on hand to oversee the competition, among them the legendary Jennie Loriston-Clarke.
She, along with Torunn Knaevelsrud, Joanna Winfield, Christine Skodjereite, Gudrun Hofinga and Hanneke Gerritsen, praised the standard now on display in Irish dressage, pointing particularly to the depth of development in the lower levels.
"There were some very nice horses and very good riders, the sport has certainly come on," Loriston-Clarke said. "I was particularly impressed by the standard of walk, we gave out a couple of nines over the weekend. What I saw this weekend in Preliminary, Novice and Elementary is certainly on a par with the UK," she said.
Attention now turns to the 2012 season, which promises to see more Irish success at home and abroad.
Text by Angel Strickland Fahy

Photos courtesy Alf Harvey - Prime Photography
Video © Rachael Logan
Related Links
Scores 2011 Irish Dressage Championships
Klatzko Steals the Show at 2011 Irish Winter Dressage Championships
Sarah Mellor Wins 2010 Irish Grand Prix Championship