Hanoverian Breeding News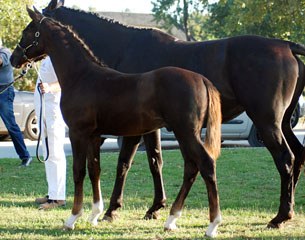 Soleio d'Arion and Atomic Kitten LH were named the champions of the 2011 French Foal Championship held in Saumur, France, on Thursday 22 September 2011. This year's foal championship was judged by Patrick Collard, M. Meessens and Jacques Verkerk.
Soleio d'Arion was named the champion of the colts. Isabelle Furlanetto's Hanoverian branded colt by Sarkozy out of Divinora (by Dormello x Rubinstein x Askan) scored 83.667 points and outclasses his peers. Soleio's full sister Solaria d'Arion was seventh at the 2010 French Foal Championship. Dominique Chaplet's Trakehner colt Derby de l'Ocean (by Legretto out of Donaustar) finished second 80.667. Haras de Hus Hanoverian bred Stradivari de Hus (by Soliman out of Wyella) was third with 80.333 points.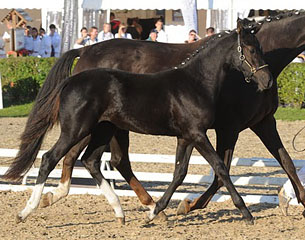 Atomic Kitten LH was proclaimed the champion filly. Jean Claude Ferrand's Hanoverian registered foal by Ampere is out of Donna Laura (by Donnerhall x Lauries Crusador xx) and scored 83.667 points. Haras de Hus' Hanoverian branded Dynamite de Hus (by Dancier x Argentinus) finished in the reserve champion's position with 82.667 points. Isabelle Andre's Babouchka du Hardrais (by Don Davidoff x Ragazzo) finished third with 82.000 points.
At the end of the day during the prize giving the two champion foals went head to head in a final assessment and the judges proclaimed Atomic Kitten LH the 2011 Supreme Foal Champion of France.
Photos © private
Results 2011 French Foal Championships
Colts - (top 11 placed foals out of 31)
1. Soleio d'Arion (by Sarkozy x Dormello) - Isabelle Furlanetto - 83.667
2. Derby de l'Ocean (by Legretto) - Dominique Chaplet - 80.667
3. Stradivari de Hus (by Soliman) - Haras de Hus - 80.333
4. Quartet LH (by Quaterback x Don Crusador) - Jean Claude Ferrand - 79.000
5. Beautycelli d'Arion (by Belissimo M x Baroncelli) - Isabelle Furlanetto - 77.667
6. Offenback de Chevret (by Quaterback x Florestan) - Armelle Mennesson - 77.333
7. Bonheur de l'Idyle (by Soliman x Ragazzo) - Marie Cecile Groux - 77.000
7. Dickens des Blancs (by Desperados x Veneur de Baugy) - Valerie Charpentier - 77.000
7. Bigeard de Hus (by Sinhus x Furst Heinrich) - Haras de Hus - 77.000
10. Boogie Star (by Joeris x Jazz) - Philippe Limousin - 75.667
11. Berlioz Saint Paer (by Cockpit x Echo de la Hurie) - Veronique Schmidt de la Brelie - 75.000
Fillies - (top 11 placed foals out of 31)
1. Atomic Kitten LH (by Ampere x Donnerhall) - Jean Claude Ferrand - 83.667
2. Dynamite de Hus (by Dancier x Argentinus) - Haras de Hus - 82.667
3. Babouchka de Hus (by Don Davidoff x Ragazzo) - Isabelle Andre - 82.000
4. Douchka de Hus (by Dancier x Sandro Song) - Haras de Hus - 80.333
5. Symphonie (by Don Schufro x Sandro Hit) - Herve Le Goff - 79.333
6. Salsa du Payrol (by Soliman de Hus x Pik Solo) - Dirk Langle - 79.000
7. Odyssee de Rohan Z (by Olivi x Gribaldi) - Rohan Land - 76.000
7. Romane d'Elo (by Riccione x Weltmeyer II) - Catherine Lambolez - 76.000
9. Spice Girl LH (by San Amour x Waikiki) - Jean Claude Ferrand - 75.667
10. Bella Top (by ZZ Top x Sydney) - Olivia Jane Lacroix - 74.667
11. Samsara d'Imasi (by Sandro Hit x Donnerhall) - Christophe Boulanger - 74.333
Related Links
Erasme de Voulx and Fantasy Boderes Win 2010 French Foal Championship
Shenandoah and Sambejah Win 2006 French Foal Championship