2011 French Dressage Championships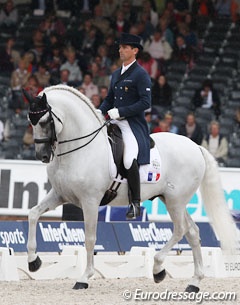 Arnaud Serre and the Andalusian stallion Helio II renewed their national Grand Prix title by winning the 2011 French Dressage Championships held in Saumur, France, on 8 - 11 September 2011. With a total score of 206.844 after three rounds, Serre was ahead of silver medal winning Claire Gosselin. Pierre Subileau finished in bronze medal position.
Serre and the 16-year old PRe bred Helio II (by Flamenco XII x Banquero V) faced tough competition from Claire Gosselin on the liver chestnut French bred Karamel de Lauture. Serre won the Grand Prix with 66.894%, tied in first place in the Special with 67.250% and dominated the Kur with 72.700%.
"Helio was tired the first day in the Grand Prix after Rotterdam and we only won the test because Claire made a program error," Arnaud Serre told Grand Prix Replay. "Anne Sophie and I still wanted to bring the horses to Saumur for the Championships, even though they were a bit tired, because we think it's important to be there as members of the French team. This year's title is no less a fight than last year though."
Gosselin and her 13-year old Karamel (by Gribaldi out of Donbito van de Helle) were breathing down Serre's neck but finshed second overall. They scored 66.851% in the Grand Prix, 67.250% in the Special and 70.800% in the Kur to total 204.901 points. Pierre Subileau and the 11-year old Dutch warmblood Talitie (by Gribaldi x Hauptlord) were good for bronze with 65.957%, 66.167%, and 71.950 earning tests. His total of 204.074 was just a fraction less than Gosselin.
"Claire's horse improved a lot this year but the piaffe is still a bit timid and needs improvement," said French selector Alain Francqueville.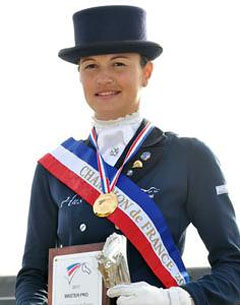 Jessica Michel and Xavier Marie's Oldenburg bred Daimler (by Don Davidoff x Davignon) were unbeatable in the small tour championship scoring high marks well ahead of all competition. In the Prix St Georges they got 69.316%, in the Intermediaire I 71.211% and 74.750% in the freestyle. With a total of 215.277 points, they were seven percent ahead of silver medal winning Anne Chapron on the Belgian warmblood Sweltmeyer (by Weltmeyer II). The bronze went to Helene Richard on her Hanoverian Weltwunder (by Weltmeyer x Donnerhall).
"I'm very happy because it's the first time Daimler did three test in competition and it was our first time doing a freestyle," Michel told Grand Prix Replay.
Photo © Astrid Appels - private
Results 2011 French Grand Prix Championships
Rider - Horse - Grand Prix - Special - Kur - Total
1. Arnaud Serre - Helio II - 66.894 - 67.250 - 72.700 --- 206.844
2. Claire Gosselin - Karamel de Lauture - 66.851 - 67.250 - 70.800 --- 204.901
3. Pierre Subileau - Talitie - 65.957 - 66.167 - 71.950 --- 204.074
4. Sebastien Duperdu - Passe Partout - 65.404 - 65.833 - 72.100 --- 203.337
5. Anne Sophie Serre - Le Guerrier - 64.000 - 66.000 - 70.250 ---- 200.250
6. Muriel Leonardi - Walentina - 64.511 - 60.917 - 66.450 - 191.878
7. Franck David - Tout de Suite - 61.447 - 62.000 - 66.150 --- 189.597
8. Anthony Astier - Celaeno - 62.979 - 61.542 - 64.750 --- 189.271
9. Stephanie Delpierre - Sino de Almeida - 60.809 - 61.667 - 64.600 --- 187.076
10. Michel Moure - Sultan - 60.553 - 61.458 - 63.600 -- 185.611
11. Ludovic Henry - Dartagnan - 58.383 - 57.583 - DNS --- 115.966
Results 2011 French Small Tour Championships
1. Jessica Michel - Daimler - 69.316 - 71.211 - 74.750 -- 215.277
2. Anne Chapron - Sweltmeyer - 66.842 - 67.526 - 72.850 --- 207.218
3. Helene Richard - Weltwunder - 66.737 - 67.158 - 72.500 --- 206.395
4. Laurence Blaya - Galliano - 66.737 - 66.737 - 70.750 --- 204.224
5. Claire Richard - Ornament P - 66.421 - 66.368 - 69.100 --- 201.889
6. Charlotte Catry - Why Not - 65.368 - 66.579 - 69.550 --- 201.497
7. Perrine Pelardy - Sable - 65.526 - 66.632 - 69.150 --- 201.308
8. Vincent Guilloteau - Woodstock - 63.526 - 65.632 - 67.100 --- 196 .258
9. Stephanie Calca - Lioubliou Corfeuil - 64.579 - 64.00 - 67.250 --- 195.829
10. Anne Marie Maire - Wandra B - 62.053 - 62.316 - 65.400 --- 189.769
11. Pierre Volla - Ringo - 63.263 - 62.053 - 64.100 --- 189.416
12. Charlotte Millier - Ulrike van Overis - 61.368 - 60.947 - 64.050 --- 186.365
13. Alexandra Dilliere - Vockacara DN - 59.158 - 59.211 - 63.700 --- 182.069
14. Stephanei Collomb - Oceane du Desert - 62.211 - 60.526 - DNS - 122.737
Related Links
Arnaud Serre Captures 2010 French Grand Prix Title on Corellou's Helio II
Siat and Collier Win at 2009 French Dressage Championships