Danish Warmblood Breeding News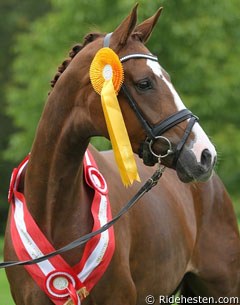 The chestnut 3-year old Danish warmblood mare Prima Donna has been named Mare of the Year 2011 at the 2011 Danish warmblood elite mare show in Vilhelmsborg, Denmark, on Sunday 11 September 2011.
Seven 3-year old mares were decorated with the "gold medal" which implies that they were the premium mares of the year with the highest scores in the mare performance test and at the elite show. Four of those seven mares were dressage bred.
Prima Donna is by Don Romantic x Andiamo and is bred by Birgitte Hofmeister from Hirtshals, Denmark. She is owned by Andreas Helgstrand. The chestnut mare received the highest score of the year, 904 points, in the mare performance testing and got four 10s, for instance for type and canter
"A rare top horse with international capacity," said the Danish warmblood selection committee. "She's extremely elastic with ground covering, bouncy gaits with much freedom in the shoulder and engagement from behind."
The seven gold medal mares are:
Bøgegårdens Quintana (by Bøgegårdens Quidam x Bøgegårdens Capello) - CHAMPION JUMPER MARE
Breeder and Owner: Stina og Jørgen Schmidt, 6392 Bolderslev
Hot Cassia P (by Carson Ask x Come Back II)
Breeder and Owner: Mogens and Peter Nielsen, 6731 Tjæreborg
La'Quit (by Quite Easy x Calido I)
Breeder and Owner: Steffen Sunesen Stutteri Sorgenfri, 7700 Thisted
Prima Donna (by Blue Hors Don Romantic x Andiamo) - CHAMPION DRESSAGE MARE
Breeder: Birgitte Hofmeister, 9850 Hirtshals
Owner: Andreas Helgstrand, 9310 Vodskov
Atterupgaards Minaia (by Stedinger x Lord Sinclair)
Breeder and Owner: Atterupgaard, 4174 Jystrup Midtsj.
Lohmanns Takitt (by Blue Hors Zack x Solos Landtinus)
Breeder and Owner: Bent Olsen, 6780 Skærbæk
Tørveslettens Snowflake (by Stedinger x Carano)
Breeder and Owner: Pernille Lauerberg Rugaard, 2765 Smørum
Photo © Ridehesten.com
Related Links
Tirana Proclaimed 2-Year Old Danish Dressage Mare Champion
Fabrix Miss Ésandri, 2009 Danish Warmblood Mare Champion
Bøgegaardens Don Romina, 2006 Danish Warmblood Mare of the Year