2011 Bundeschampionate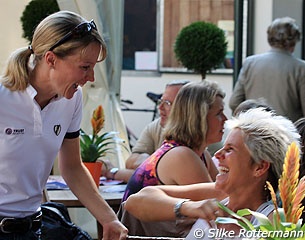 Leaving the exit of the motorway after a good four hour drive from the south of Germany to the province of Northrhine-Westfalia it doesn't take long and I have to think of New Zealand. There on these beautiful islands on the southern hemisphere live by far more sheep than humans. And here in this area near Germany's equestrian "capital" Warendorf it must be the same, but with horses.
I have no facts, but my feeling soon tells me that there is probably no area in my home country with more horses and indoor arenas than here. And the already high number of noble four-legged creatures increases annually at the beginning of September for the Bundeschampionate. 
I didn't come here to do statistics on that, but to visit the Bundeschampionate briefly before the judges' seminar held on Monday and Tuesday following the German Young Horse Championships.I confess. I'm already over 30 and I have never visited this horsy version of "Germany's Next Top Model" before. My interest in young horse classes has never been the biggest and this will probably not change very much after having been to the Bundeschampionat. But like Aachen, Badminton or Hickstead it is an event where a horse lover just should have been at least once in a lifetime.
Arriving in Warendorf
Arriving at the headquarters of the German FN around 10 am everything is already in full swing. Masses of cars are parked alongside an alley which leads to the DOKR (German Olympic Equestrian Committee), a constant stream of visitors heads towards the show grounds and ignore my attempt to enter the entrance to the "Rembrandt street", of course named after a famous inhabitant of the DOKR which became a four-time Olympic dressage champion.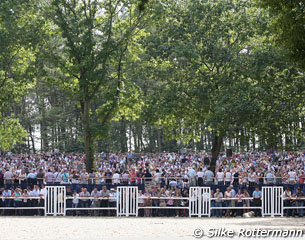 Finally a gap opens and I quickly drive through, only to be stopped some metres after. I am asked by the security staff to park my car where there's no allowance to do so and quickly pick up my parking card from the press centre. Quickly? This is a good joke because there are so many people one could easily loose direction, but I am lucky as a friend of mine kindly had picked up everything for me a day before and a more than happy coincidence means she comes in sight out of the blue with her horse in tow. His owner runs off to the nearby stables to pick up my parking card.
Two minutes later my car is standing in the shadow at the end of the big property. It's not a long way back to the entrance, but this might be one of the hottest September days for a long time, the sun shining relentlessly and the air so humid one is almost sucking for oxygen. subsequently I am sweaty within minutes. As much as we all detest rainy horse shows after this wet summer, I wonder if the other extreme is better?  I don't know what kind of wet feeling is worse…
Contrary to my assumptions it's not hard to get an overview of the different show grounds, even though the three Olympic disciplines and riding classes for horses and ponies are held simultaneously. All is quite close together which allows the visitors to change places as quickly as sometimes necessary. If one wanders off from the dressage arenas right behind the DOKR stables to the jumping arena one has to pass a big variety of trade stands, where especially the German breeding associations or big studs offer informations.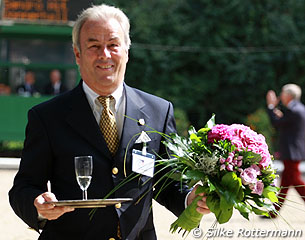 To get familiar to the property I stroll here and there a bit, but it's a rather stressy thing as I am quickly part of one big mass, moving shoulder to shoulder not always in the direction one wants to go. And be careful to swim against the stream! The bulldozer method is definitely not  gentle nor polite, but on this very day it proves to be the only efficient way to cross the corridor between the row of tents. Annoyed faces and murmured swearing you just have to take in if you want to go where you intend to on such days…because patiently standing in the middle of the stream and hoping for kind people to open a gap is just hopeless and only causes complaints because you are standing in the way…
So Much to See
As autumn and winter are approaching more quickly than I want to think about the latest winter trends of the most popular equestrian clothing labels caught my eye and I am tempted to buy something, but the heat and the hectic around prevent me from spending money, not even for a winter blanket for my old pony.
On the way back I pass one of the ponds which are used for cross country practise. Today it's a very welcome opportunity to cool down swollen vsitors' feet and the ideal swimming-pool for several dogs, taking a joyous bath, chasing each other through the low water or cooling the belly and having a drink at the same time.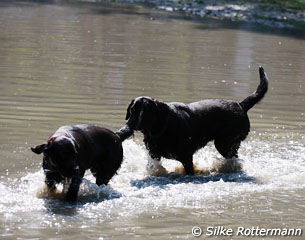 Dogs…of course are very much part of almost every horse show, but Warendorf has the highest rate I ever experienced. As I love dogs and as I am always delighted seeing many different breeds I should be happy, but I was not as several young puppies must have got stiff necks because they were towed from left to right in the attempt to avoid being trampled over. I cannot understand why people bring such young dogs, not familiar with lead ropes, to such an event and I feel sorry for these babies doing a permanent slalom around a forest of legs…
As I have talked of the high horse rate this region has to offer, I also have to mention another one: The rate of well known riders, trainers and breeders one can meet here within an hour. It's not just a saying, it's reality that here most of Germany's equestrian high society in all Olympic disciplines have their rendezvous. On the other hand the atmosphere seems a bit different from international shows as here these personalities seem to be part of the whole scenery and not gleaming stars between the horsy folk.
Standing next to eventing European- and World champion Michael Jung at the pizza stand you don't hear people whispering "Isn't that…", nobody bothered him for an autograph …maybe a big difference to the weekend before when Jung was the undisputed star of the  European Eventing Championships in Luhmühlen.
Dressage Action
There are masses of people everywhere, but without a doubt the dressage arena right behind the stables, nestled at the edge of the forest and surrounded by high tribunes on each long side is by far the most crowded place.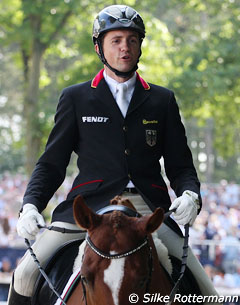 When approaching it from the forest it's a carpet of heads what first comes into sight.
The warm- up ring is also heavily crowded. The most clever or the most experienced dressage visitors come very early to make sure they get a seat at the last row of the tribune which is close to the warm-up ring so one can observe the activity in front and behind.
For me it's interesting to see that during the extensive time I spent at the edge of the warm- up ring only German team rider Christoph Koschel wears a helmet while the big majority doesn't wear any protection on their young horses confronted with a huge crowd like this!
As the final of the 6-year-olds is underway I remain at the warm-up ring. There's no chance coming into the stadium now and I frankly admit I am more interested in the preparations than in the result which can bee seen in there.
The only two horses I watch in action from the entrance corner where a befriended trainer takes me to are Ann-Sophie Fiebelkorn's Benecio and Uta Gräf's Damon Jerome H. Both horses are the favourites and both are very different chestnuts. Benecio, a smashing mover, is a very coloured chestnut looking like the smaller version of Jan Brink's stallion Briar. Damon Jerome H on the other hand is a leggy liver chestnut with a floating natural way of moving. Both horses, though quite different, have tremendous quality and talent and both are focused on their riders in an arena which is more a witche's cauldron than anything else with its highly electric atmosphere.
It cannot be missed that Benecio is the crowd favourite and the judges award him 1/10th more than Damon Jerome, who had already missed gold at Verden some weeks earlier with a close result.
As soon as the results are known discussions start while the placed riders prepare their horses for the prize giving. Some look very sweatyd, some like Ann-Sophie Fiebelkorn still immaculate. One of the four legged medalists is not very amused he is being bandaged on two legs simultaneously and dances a bit around while the two grooms are running after him with the bandages' end in their hands.
I think to myself that these 6-year-olds have to deliver a lot during these days at Warendorf and that it's understandable that some have enough of the razzmatazz now.
I also have enough for this day, being hungry and soaked with sweat after many hours in the more than hot sunshine. I meet some friends in the stable where discussions on the results are in ful cry and we make an appointment to have diner in an Italian restaurant in downtown Warendorf later on. Unfortunately my hotel is more than 20 km away and I have to check-in on time so I miss the official discussion on the 6-year-old finals.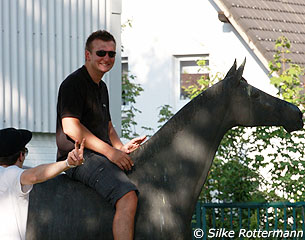 On my way back to the nearby parked car I come across the statue of Hans-Günther Winkler's famous mare Halla at the entrance of the DOKR- building. More than 50 years ago Halla was living here at Warendorf, preparing for the uncountable big shows she successfully attended and which made her an immortal legend to this very day. The sight of her statue prompts the questions if I unconsciously have seen a horse today which in some years could become a similar status.
Only time will tell!
Text and Photos © Silke Rottermann for Eurodressage.com
Related Links
Scores 2011 Bundeschampionate
Eurodressage Coverage of the 2011 Bundeschampionate