2011 Dutch Pony Championships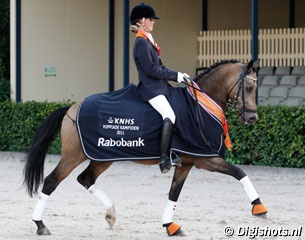 Sanne Vos and her 7-year old buckskin German Riding pony gelding Champ of Class (by Champion de Luxe) won the 2011 Dutch Pony Championships, which were held at the head quarters of the Dutch Equestrian Federation in Ermelo, The Netherlands, on Saturday 3 September 2011.
Forty-two combinations gathered for the highest level competition, FEI pony level which is called Z2 in The Netherlands, for the 2011 Dutch Pony Championships. The group of riders had to be split into two for the qualification round. The 10 highest scoring riders in the qualifier were allowed to compete in the individual test finals held in afternoon.
Coby van Baalen's student Sanne Vos won the national title aboard the gorgeous Champ of Class scoring 74.34 %. Vos left all competition far behind her and referred Sanne Gilbers to the silver medal position. The 16-year old Gilbers finished her pony time with this second place, scoring 71.14% aboard her German Riding pony mare Daylight (by Don't Worry). Jelle Peeters, a grandchild of former Dutch O-judge and Judging Supervisory Panelist Jan Peeters, earned the bronze with a 69.52% for her test on Nandor. 
Dutch pony team rider Febe van Zwambagt, who achieved the highest score in the qualification round, unfortunately had to retire in the individual test as her pony Prince Z was terrified by the reflection in the glass of the judge's box.
Photo © Leanjo de Koster
Results 2011 Dutch Pony Championships
Qualifier - Team Championship Test - Group 1

1. Febe van Zwambagt - Prince Z - 72.08 %
2. Jelle Peeters - Nandor - 70.46 %
3. Lisanne Zoutendijk - Kostendrukkers Amaretto - 69.03 %
4. Luca de Rijck - Omira - 68.24 %
5. Rachell Fokker - Majos Cannon - 68.24 %
6. Kirsten Dirks - Silver Shadow - 66.39 %
7. Dominique Marijnissen - Oldeberts High Speed - 65.28 %
8. Fleur Hofstra - Duesmann - 65.14 %
9. Robin Simons - Bjirmens Rinze - 64.72 %
10. Laurie Vervoort - Westerhuis Bruno - 64.58 %
11. Carlijn Vaessen - Canto T.g. - 63.29 %
12. Reece Fokker - Hogewalds Naziri - 62.69 %
13. Robin Bernoski - Keulse Hoeves Zico - 62.59 %
14. Ynes Hendriks - Anjershof Nikki - 61.94 %
15. Melanie Reijrink - Rachid - 61.02 %
16. Britt van der Panne - Ravel - 60.83 %
17. Karlijn Geelkerken - Molenhorns Rico - 60.74 %
18. Jasmien de Koeyer - Bjirmens Wytse - 60.69 %
19. Rianne Kooistra - Charina Du Bois - 57.92 %
20. Daniëlle van Bergen - Anjershof Florencio - 57.45 %
Qualifier - Team Championship Test - Group 2

1. Sanne Vos - Champ Of Class - 70.79 %
2. Demy Kurstjens - Ciske - 69.35 %
3. Sanne Gilbers - Daylight - 66.57 %
4. Mandy van den Hoek - Sir Donnerwind - 65.65 %
5. Marjan Hooge - Mr Matcho - 65.56 %
6. Kim de Jonge - Sandokan - 65.19 %
7. Rosalie Bos - Liberty - 64.81 %
8. Joan Molengraaf - Vlox - 64.63 %
9. Nanette Boeree - Beukenhofs Ricardo - 64.63 %
10. Samantha van der Lof - Elins Nonsisdador - 64.17 %
11. Bo Oudhof - Bodethals Kosima - 63.80 %
12. Daphne Vergouwen - Denver - 63.33 %
13. Kaylee Gouda - Don Camillo Du Bois - 63.19 %
14. Guusje van Heeswijk - Amigo - 62.55 %
15. Dixy Bloks - Wester Aikemas Nadeem - 62.22 %
16. Melody Vroom - Balthasar - 62.13 %
17. Nikita Raijmakers - Blakts Thomas - 61.48 %
18. Zoe de Booij - Kantjes Renaldo - 61.30 %
19. Angelina Verbunt - Wester Aikemas Norma - 60.42 %
20. Annelie Hoekstra - Pop Star - 60.42 %
21. Carleen Doppen - Whoah - 59.72 %
22. Anouk Sikma -Harry - 54.26 %
Finals - Individual Test

1. Sanne Vos - Champ Of Class - 74.34 %
2. Sanne Gilbers - Daylight - 71.14 %
3. Jelle Peeters - Nandor - 69.52 %
4. Luca de Rijck - Omira - 67.54 %
5. Mandy van den Hoek - Sir Donnerwind  - 67.46 %
6. Demy Kurstjens - Ciske van de Beekerheide - 66.93 %
7. Kim de Jonge - Sandokan - 63.16 %
8. Lisanne Zoutendijk - Kostendrukkers Amaretto - 62.68 %
9. Marjan Hooge - Mr Matcho - 62.32 %
10. Rachell Fokker - Majos Cannon - 61.71 %
Febe van Zwambagt - Prince Z - RET
Related Links
Te Riele Concludes Pony Career with 2010 Dutch Pony Champion's Title
Antoinette Te Riele, 2009 Dutch Outdoor Pony Champion
Te Riele and Danny Boy B Win 2008 Dutch Outdoor Pony Championships
Angela Krooswijk, 2007 Dutch Pony Champion
Michelle van Lanen, 2006 Dutch Pony Champion