Canadian Dressage News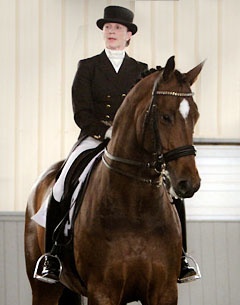 The Dressage Canada Selection Committee for the 2011 Pan American Games has approved the following nominations for the 2011 Pan American Games taking place in Guadalajara, MEX. 
The dressage portion of the Pan American Games will be held from October 16 – 19, 2011 at the Guadalajara Country Club.
The nominated riders are:
Diane Creech - Robbie W, owned by Douglas Leatherdale
Tom Dvorak - Viva's Salieri W, owned by Augustine and Christine Walch
Tina Irwin - Winston, owned by Mary Ellen Horgan
Crystal Kroetch - Lymrix, owned by Crystal Kroetch
Tom Dvorak's reserve horse is Corrigan, owned by Karen Thompson-Harry. In qualifying Corrigan, Dvorak is able to use the horse as an alternate should Viva's Salieri W be unable to compete at the games.
Alternate nominations
Roberta Byng-Morris - Reiki Tyme, owned by Roberta Byng-Morris
Jaimie Holland - Fleurina, owned by Jaimie Holland
"We have an exceptionally strong team nominated to the Pan American Games this year," said Gina Smith, chef d'équipe for the Canadian Dressage Team. "I am confident that we will reach our goal of qualifying for the Olympic Games with the consistency that the riders have shown through the selection process. We have had excellent support from our technical leader, Markus Gribbe, and continue to improve with his help."
For specific times, competition details and results for the 2011 Pan American Games, please consult the organizing committee website www.guadalajara2011.org.mx.
Related Links
Canadian Finalists Announced for 2011 Canadian Pan Am Head-to-Head Trials
Canadian 2011 Pan American Games Trials Announced