FEI Dressage News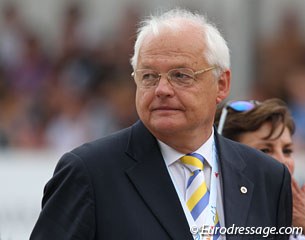 In September Poland will host the seminar "How to make dressage events perfect and attractive" for the first time on Wednesday 7 September 2011.  Set at the facilities of the Wroc?aw Partynice Race Course, the seminar is not only for present technical delegates
, future TDs and organisers, but it is platform where all bodies interested in developing dressage as an attractive sport are welcome to participate. 
The seminar is a unique opportunity to meet and discuss with the most experienced dressage show directors from all the world.The FEI, PEF, IDOC, ADEO and WTWK Partynice and AKU Thomson are cooperating for the first time on this one–day seminar, where expertise and knowledge from very different angles will be shared to support the growth and success of dressage competitions on different level: from small CDI's to Championships and Olympic Games.
The invited speakers are specialists on the most important aspects of the organization of events. The focus will lie on the phases of preparation and running a competition. Keynote speakers include Trond Asmyr, Mariette Withages, Dr. Hermann Genn, Martin Atock, Gunther Alberding, Matthias Precht, Grania Willis, Egon Srebotnjak, David Andrews and Wojtek Markowski.
The main topics will include:
the concept of a dressage event on different levels, categorization, attractiveness for sponsors, media, TV, public.
the education of officials in dressage – TD, FJ
footing outdoor and indoor
the function of TD, FJ and cooperation with organizers
all vet aspects of competition including doping
horse transportation, logistics, quarantine, veterinarian and other questions
the technical requirements in dressage: lights, sound system, TV and video systems, computers system and presentation of results, arenas, judges and JSP huts, etc.
responsibilities and legal aspects of event organization.
media and communication.
stewarding in dressage competition
The program will be scheduled as follow: for each topic there is a presentation by an invited speaker who introduces the subject, then there is a discussion with all participants followed by a summary of the conclusions. As guidelines for this seminar the "Manual for Dressage Events Organisers & Officials" and check lists for DT/FJ will be used.
Applications need to be send to vicky-eileen.baumann@fei.org and wojtek@bg.am.lublin.pl as soon as possible.
Related Links
FEI Endorsed Young Horse Seminar and Judges Course to be Held at 2011 Bundeschampionate
Withages and Fouad Head Gruppo Italiano Dressage Seminar in Caselle, Italy