2011 European Dressage Championships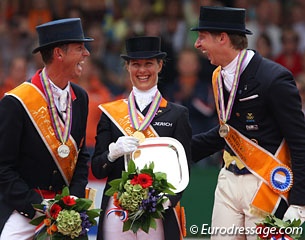 The white swan in Adelinde Cornelissen took the upper hand and won the Grand Prix Kur to Music at the 2011 European Dressage Championships in Rotterdam, The Netherlands, on Sunday afternoon 21 August 2011. Riding to music of The Nutcracker and Swan Lake, Cornelissen put a personal best score of 88.839% on the board and claimed her second individual gold medal of the weekend. Carl Hester repositioned himself in silver medal seat, while Patrik Kittel made dreams come true and won bronze, his first international Grand Prix championship medal.
Horses which were tired on Saturday in the Special appeared revitalized and sharper on the aids, so less mistakes were being made. In a way the level of riding in the freestyle was higher, but the class was less thrilling than the Special in which you could follow the neck to neck race on the score board. The scoring of the freestyle is always a shot in the dark as the artistic notes never truly reflect the quality of the musical production, the synchronicity between the music and the horse's movements is brushed off the table and overall the freestyle scores of the individual judges fluctuate as much as the current day stock market.
What was sure from the start was Cornelissen's total focus on her ride and her control over the 14-year old KWPN gelding Parzival (by Jazz x Ulft). There were only minor issues to be noted in Adelinde's fault-free test. Some steps in passage could have improved on regularity, in the extended trot the hind legs are active but should move more towards the gravitational point and in the final piaffe pirouette the chestnut pulled his hocks high. He lost the passage right before the end halt. The contact with the bit was reasonable. Of course there were plenty of highlights: super rhythm in piaffe and passage, wonderfully straight tempi changes, gorgeous pirouettes, good extended walk and ground covering trot half passes. Cornelissen and Parzival were certainly the prima ballerinas of the freestyle finals and scored a baffling 88.839% to win gold.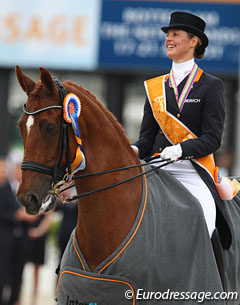 "Parzival was good again as he was the entire weekend and today I was also good and didn't make any mistake. Now it fitted," Cornelissen commented at the press conference. The Nijkerk based rider said she was very focused on her program not to make any mistakes, but at the same time was also able to enjoy her test. "When Parzival heard his music, he put his ears forward and recognized it. I could really enjoy it until the last piaffe pirouette."
Parzival will now get a little break from competition but Adelinde has not yet set up a schedule for the next season. "I haven't planned my winter season yet," she stated. "I only have to ride two World Cup qualifiers as the winner, and after that I prepare for London."
Carl Hester Rides on the Wave of Success
British Carl Hester and Sasha Stewart's 10-year old Dutch warmblood stallion Uthopia rode on the wave of their success this weekend and recaptured the silver medal in the freestyle after having won team gold (and placing first) in the Grand Prix and individual silver in the Grand Prix Special. Carl's freestyle ride was without mistakes, so an improvement from the Special in that consideration, but maybe it was the least sparkly of all three.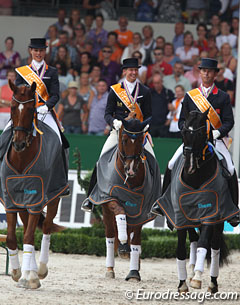 The gorgeous black stallion performed correct tempi changes on curved lines. The one tempi's were big in ground cover. The trot was lightfooted and flowing and the piaffe and passage were regular, though the stallion could have been slightly more engaged to shine more. The right double pirouette was quite big and Hester struggled to madk it look good. The left pirouette was lovely. The collected walk was correct and in the extended he had two hooves overtrack. Hester showed his mastery in executing a very concentrated ride and kept lightness and harmony as objectives for his test.
Carl finished with a silver medal winning score of 84.179% but the judging panel, which consisted of Markowski (POL), Clarke (GBR), Seefried (AUS), Fouarge (NED), Eisenhardt (GER), Roudier (FRA) and Alonso (MEX), was not unanimous. Carl's technical score ranged from 74.75% to 83.75%.
Carl promised the press that everybody would be surprised by his musical production (made in one week time) and surprise everyone he did. His dreadful music was disconnected in the choppy choreography. The amateuristic arrangement of the ill-fitting tunes was baffling. It showed that his kur was a last-minute job and it was a great relief to hear at the press conference that Carl would be taking his time to work on a brand new production for the 2012 Olympic competition year. Such a high competition rider with a world class horse needs to have professionals handle his music so that his freestyle will support and enhance his performance instead of making the audience and judges spasm when they hear one copy-paste tune hiccuping to another. Step it up Carl!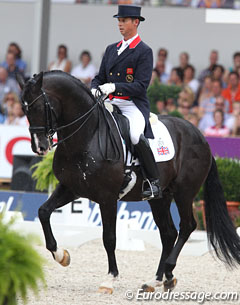 "I think I had a miracle today after everything I said about the kur. I arrived in all the right places in all the right times," Hester explained. "I decided to take a risk and change it last week. Tom Jones got put in the bin and the new kur was what I rode it today. I had to learn it in a week by watching a DVD.  I was obviously very happy for the small preparation I had with that test. I'll make a new one after this championship." Hester added that he prefers quiet freestyles and will be looking for something like that. "As long as my music doesn't get too fast, I'll be very happy. I don't like a speedy program."
Carl explained that he is certainly looking forward to challenge Adelinde again at the 2012 summer Olympics. "I'm sure she is the top favorite and it's so exciting to be riding against her. It's an inspiration if someone is beating you." Hester said that Uthopia has been improving in spurts lately. "Six weeks ago I wasn't even thinking of an individual medal. At hickstead I found a new gear. It will take time for the horse to get stronger. Riding alongside Adelinde is something I inspire to do."
Carl's plan for the near future is to ride at the British Championships in three weeks and then give Uthopia a 6-week holiday. The black stallion is approved for breeding in Great Britain and is only collected one period a year to service 20 mares in total. A very limited amount of semen is therefore available and it usually sells out in a flash. His future show plans include the CDI-W London in December and "then wait until next May to do some spring shows."
Patrik Kittel's Dream Comes True
Swedish Patrik Kittel has been the bridesmaid at international championships for quite a few times, but in Rotterdam he got the spotlight on him for sure and made it on the podium with a fantastic freestyle ride that earned him 83.429%.
Aboard Jan Greve's Scandic (by Solos Carex x Amiral) he rode a very punctual and well regulated test in which there was only an issue with the two tempi's. The trot and passage work had incredible swing with very good lengthening and shortening of the strides in between movements. The half pass right could have been more uphill but overall the entire piaffe-passage tour and trot work were high class. The collected walk was a bit short. In canter only one left pirouette lacked some roundness, the others were really nice. The first change of the two tempi's did not really come through but all other tempi's were correct. The contact was steady but Scandic slightly tilted his head to the left in a few movements. Kittel rides to a fantastically arranged freestyle by Michael Erdmann based on Depeche Mode hits. The beat and rhythm are like hand in glove with Scandic's gaits and the entire ride was just so impeccable.
"I'm more than happy. I don't realize I'm sitting here with a medal round my neck," said a very emotional Kittel at the press conference. "I have been dreaming about it since I was a kid. It's a very special feeling." Kittel praised his horse. "He was the best today of the three days." It was a nail-biting experience to wait for the other riders' scores before the final ranking was announced. "I went earlier so I had to sit and wait. I was wondering how everyone else was going. The horses are unbelievably good at the moment and to be in the top three is unbelievable. The last piaffe passage in my test I was wondering, my god is this really real."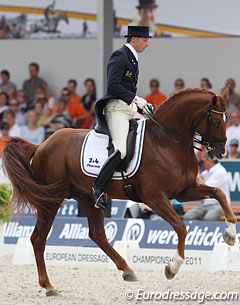 Patrik, who is based in Appelhulsen, Germany, will now give his chestnut licensed stallion a break but he will stay as busy as ever himself. "I'm going with another horse to Rio in two weeks. Then Wroclaw in Poland with another horse. Scandic will do one show in winter, then Amsterdam and Gothenborg." Kittel's schedule with Scandic will be pretty much the same as this year. "It all depends on how the horses feel. Now I'll hack a bit and enjoy the medal."
Judges Thrilled
Judge at C, Ghislain Fouarge, commented that "it was really exciting. We saw a super and fantastic sport. I didn't know who would be the winner, but today Adelinde did a wonderful job. She had a new personal record and she was the clear winner for me today. It was unanimous." The Dutch FEI judge general added jokingly, "it was so clear that even we could see it."
All agree that the level has never been so high, even preceding the 2009 European Championships where Gal rode world records on Totilas. "I think we had never before so much quality during a championships like here," Fouarge explained. "The English were another surprise for me. I want to pay a big compliment to Carl and Chartlotte because their way of riding is wonderful. That's what we want to see in the sport."
The sport has recently developed with giant leaps. "We couldn't imagine a few years ago that there could be better results than Anky's, but everything can happen with these good horses," Fouarge continued. "I'm very convinced that in the future we can even get higher marks as the sport is so professional."
Text and Photos by Astrid Appels - No Reproduction Allowed
Also Read: Eight Above 80% in Kur to Music Finals in Rotterdam
Video Links
Back to the 2011 EDC index