2011 European Dressage Championships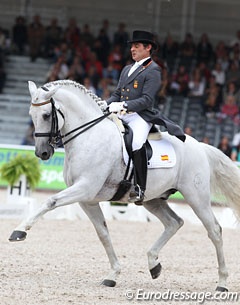 Only superlatives can be used to describe the second Grand Prix day at the 2011 European Dressage Championships in Rotterdam, The Netherlands, on Thursday 18 August 2011. The most amazing Grand Prix, the most exciting combinations, the biggest breath of fresh air, and the most earned team gold medal ever in the history of dressage.
Not only the riders of the British, German and Dutch teams shone, there were many more brilliant combinations from nations all across Europe. The Grand Prix had an interesting course as highlights were followed by some lowpoints in which some horses turned out to be extremely tender on the legs as soon as they entered the diagonal for the extended trot. Other pairs rose to the occasion spurred to excellence by the impressive performances of their colleagues.
Check out a photo report of the other interesting combinations did not not end up with a team medal but made their mark in their own right
Photos © Astrid Appels - No Reproduction Allowed
Back to the 2011 EDC index