2011 European Dressage Championships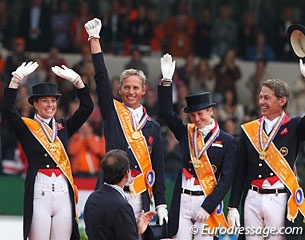 It was a landmark day for Great Britain today as their national Grand Prix dressage team won team gold with an all-time team record score at the 2011 European Dressage Championships in Rotterdam, The Netherlands, on Thursday 18 August 2011. Spearheaded by Carl Hester and the brilliant black stallion Uthopia, flanked by Charlotte Dujardin and Laura Bechtolsheimer, and supported by Emile Faurie, Great Britain earned gold with a 238.678 team score. The Netherlands held the previous record of 238.595 points which they booked at the 2009 Europeans in Windsor.
Carl Hester and Sasha Stewart's 10-year old Dutch warmblood stallion Uthopia (by Metall x Inspekteur x Ulft) produced the winning ride of the day with a mind-blowing performance that earned Hester a personal best score of 82.568%. Five judges placed the pair first, two second. Hester's ride was simply astonishing: big bouncy trot extensions, very nice half passes, smooth transition to passage, which was well suspended and flowing. The first piaffe could have had more impulsion with the horse slightly more up in the frame, but it was rhythmical. The extended walk needed more overstep but was relaxed and over the back. The rhythm in the second piaffe needed to be more pronounced but it all looked very light and unforced. The extended canter was brilliant, the one tempi's were big and the pirouettes good. The zig zig lacked some balance but was still very nice. The biggest "issue" in Carl's ride were the two tempi's which lacked straightness.
The final extended trot was out of this world and put seven 10s on the score board. This excited the crowds so much that they started to murmur while Carl briefly looked worried when he entered the final centerline for the passage and piaffe. "I thought a dog or a bird had come into the ring, but when that wasn't the case I realised I must have got a 10," he told Eurodressage. The crowds went wild when Hester made his salute and it was crystal clear that the Brit had been instrumental in bringing home the gold with his top score.
Carl on Cloud Nine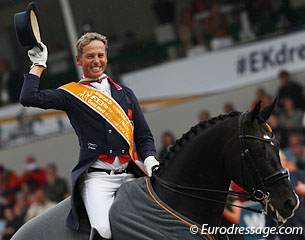 "It is a shock from the blue," Hester said about him winning the Grand Prix. "Uthopia is an awesome horse no doubt, he's the coolest cucumber. I'm so used to riding him but I had to wait for my mark to know how the rest of the world is experiencing him."
At the press conference, Carl explained that "every now and then in your life you have a dream ride. I had that today. He's a very smooth horse for a young horse. You could see his temperament never gives me any problems. What I can do at home I can do in the ring. I'm glad he has come into my life before my retirement. Thank god for that."
"He's no trouble in the ring, so straightforward to ride. He's like a pet. I can put a head collar on him and put my grandmother on him," Carl kept gushing about his black stallion.
Judge Stephen Clarke praised Carl and Uthopia's test for its horse-friendliness. "I've never seen any ride more natural and easy," Clarke told Eurodressage. 
Uthopia sold to Carl's barn when he was a 4-year old after having finished seventh in the 2005 Pavo Cup Finals. Even though Uthopia is a moving like a super model, the stallion only stands 166 centimeters told. "I thought about everything to make me look good on him," Hester admitted. "I put my stirrups one hole shorter and I had my tail coat made shorter so you can at least see my leg."
Hester is relishing his super stardom status for the moment. "For so many years, you've watched everybody else enjoying the sport, realising you're not there yet. So many of us stay in the middle; not that they are bad riders. Thank God I found Uthopia," Carl confessed.
Carl explained that he's a firm believer in healthy horse-keeping. After the European Championships Uthopia will compete at the nationals in Great Britain in September and then the horse get a 6-week holiday. "He'll go out in a big paddock so his head, legs and body get complete rest. Everybody says they do it (put their horses in the field) but we in England actually do it," Hester stressed. "How else do you expect them to keep going?!" Carl explained that he rides his horse only four times a week: 30 minute hack by the grooms, then a 45 minute training session, followed by a 5-minute cool down walk. "I don't understand why people ride their horses 6 days a week, two times a day. They won't last!"
Hester said that his initial plan for the Grand Prix was "give Laura something to work with," but his phenomenal score has not only assisted in the team gold accomplishment but actually also opened perspectives for an individual medal either on Saturday or Sunday.  "Oh my god, I can think individual," he uttered. Tomorrow Uthopia will only be hand-grazed. "I want to leave him fresh for Saturday."
Historic Gold for Britain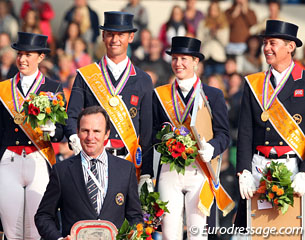 Laura Bechtolsheimer has been the anchor rider for the British team for many years, but she finally got some help from her colleagues who are now playing in the exact same league as her. Bechtolsheimer's confidence got seriously rattled after a disappointing CDIO Aachen (she still finished high, but was not on her usual best form). After visiting her sport psychologist again, Laura hoped to have her focus back but unfortunately the electric atmosphere in the Rotterdam show ring put her Danish warmblood on edge.
The 16-year old towering chestnut gelding Mistral Hojris was very "awake" for his Grand Prix test and Laura could not sufficiently filter his body tension. There was no halt at the start. The trot extensions and half passes were huge but there was a mistake in the rhythm in the second extension. The first piaffe and passage were big, but there were many visible half-halts to keep the power under control. The walk was excellent: big overstep in the extensions and clear rhythm in the collection. The second piaffe and passage had a super cadence but the horse came deep. The zig zag was ground covering, the extended canter huge, the one tempi's very uphill and the pirouettes absolutely brilliant but in the two tempi's a counting mistake seemed to happen because it once took three strides to make the change. The final centerline was excellent again.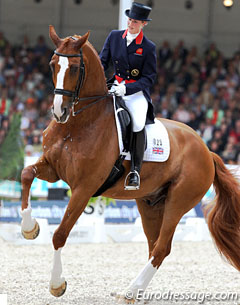 There were plenty of highlights in Laura's test to still keep the score high class. With 77.280% she finished fifth and produced the third best score for the British team. Yes 77.28% was the third best score for Britain! Even fourth member Emile Faurie put in a 70+ ride, something most teams dream of. Britain made such a staggering power statement and score-wise outclassed the once untouchable record breaking Dutch team when it was at its biggest moment of glory with Totilas and Parzival at 2009 Windsor European Championships.
"This is historic for us," said Hester at the official press conference."It's been the best thing in all of our lives. Some have seen Great Britain in the early days through this. It's a dream come true. It's historic as a nation and a team. We couldn't be more delighted." Hester added that, "it's a team effort, we have a bus full of people here."
For Bechtolsheimer the team achievement was what counted today. "My ride wasn't so great today for me and Alf. It was a little bit disappointing for us individually. Alf struggled with the atmosphere and the noise. He became strong and flighty and I struggled to keep it together and nice and easy. It was not our best performance, but I am lucky this year I have a fantastic team. I couldn't be happier today anyway."
Video Links
Continue Reading: Germany Rises to Silver While The Netherlands Drop to Bronze in Nations' Cup
Text and Photos © Astrid Appels
Back to the 2011 EDC index