2011 European Dressage Championships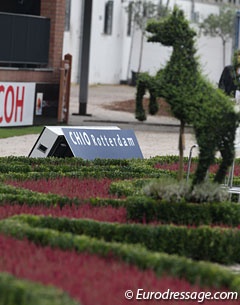 The first day of competition at the 2011 European Dressage Championships in Rotterdam, The Netherlands, was one of mixed levels and emotions. In the show ring highlights were being show that scored up to 78% while others were unable to reach their peak and scored as low as 55.699%. The road to the top is long and hard. That's for sure.
The Rotterdam show grounds have undergone an extreme transformation. Bye bye ugly white temporary tents and hello big brick stadium. It's like a miniature version of the CDIO Aachen Deutsche Bank stadium had resurfaced in the Netherlands. The arena was decorated with the most amazing plant sculpture: prancing horses in boxwood surrounded by serpentines of purple heath and small boxwood hedges.
The first day of show organization brought about its usual regurgitations: the accreditation centre dealt with two constiputed printers who refused to execrete the access passes for the press, riders and grooms. The internet connection in the press centre was feverish and fickle and there was absolutely no food available, making it even harder for the press to stay on top of their game combining photographing every single rider, with downloading pictures and writing articles. Press that's not fed for 12 hours gets grumpy. The food court wa over-crowded with spectators and long queues made it impossible to order and eat food in between breaks. At the press centre there were only a few cookies to accompany tea and coffee and of course the result was that a Dutch cookie monster munched them all and left behind more than 50 other people with complaining stomachs. The joys and luxury of the CDIO Aachen where the press is treated like royalty. Hallelujah!
The first half of the Grand Prix is always a very varied class with riders struggling to climb the ladder as well as competitive nations trying to make an impression and get as big a point advantage in the nations' ranking on the first day.
Check out some photos from Wednesday at the 2011 European Championships
Photos © Astrid Appels - NO REPRODUCTION ALLOWED!!!
Back to the 2011 EDC index