Irish Dressage News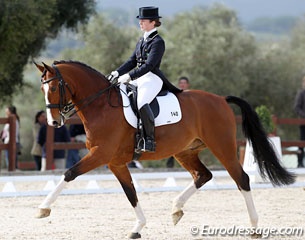 Horse Sport Ireland has confirmed the combinations that will represent Ireland at the 2011 European Dressage Championships in Rotterdam from 17 - 21 August 2011.
The combinations are:
Anna Merveldt - Coryolano
Judy Reynolds - Remember
One other combination, Dane Rawlins and Sydney, had also been selected but withdrew due to injury.
The riders were selected by Horse Sport Ireland's Dressage High Performance Committee of Joan Keogh (Chair), David Lee, Norbert von Cramon and Robert McCormick, who will be Chef d'Equipe at the Championships.
Photo © Astrid Appels
Back to the 2011 EDC Index